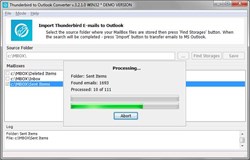 all in one tool for email migration from Mozilla to Microsoft.
San Diego, CA (PRWEB) November 12, 2013
GlexSoft LLC, a company with a strong reputation of an expert in data conversion and migration solutions for major email applications, is glad to present the latest version of Thunderbird to Outlook Converter, a powerful tool that helps transfer Thunderbird to Outlook in a quick and hassle-free manner.
The update contains multiple bug fixes and performance tweaks making the already fast email transfer program even faster. The most notable new feature of Thunderbird to Outlook Converter is the automatic detection of the location of Thunderbird's email storage. If Thunderbird is installed on the user's system, the program will automatically detect the location of its storage files and will populate the data location field, saving the user the trouble of finding the necessary folder and files on his own.
Thunderbird to Outlook Converter ( click here to download ) was created with non-professionals in mind, which means that the interface of the program was dramatically simplified and the number of controls was minimized to avoid ambiguity and confusion. The program scans Thunderbird storage files, accurately extracts TB email messages and attachments, and converts them either to an existing Outlook profile or a standalone PST file on the user's hard drive. The software requires no third-party components, libraries, special skills or previous data conversion experience. Most operations in the program are completely automated and require no user involvement.
"We are happy to present the fastest and most efficient version of Thunderbird to Outlook Converter to date," commented Gordon Lex, Senior Software Engineer at Glex Software. "Although we have not modified the program radically, it has been improved and optimized in a number of ways to offer better user experience and yield consistently good results time after time."
The demo version of Thunderbird to Outlook Converter can be downloaded from the official website: http://www.thunderbirdtooutlook.com/.