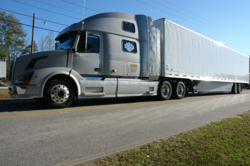 TransFoil Aerodynamic Trailer Skirts can save over $7,000 per year in diesel fuel.
Thomasville, Georgia (PRWEB) February 09, 2012
South Georgia manufacturer TransFoil Systems reported today that it is seeing substantial growth in the aerodynamic truck trailer skirt industry as average diesel prices again pass $4.00 per gallon in many areas of the country. For commercial truck fleets and owner operators, diesel fuel represents the largest operating cost, and with the typical rig racking up over 100,000 miles per year at under 7 miles per gallon, semi-trucks guzzle a lot of fuel. TransFoil Systems offers an Aerodynamic Trailer Skirt Return on Investment (ROI) Calculator on its website for anyone who wants to calculate the potential savings.
According to company spokesperson Matt Williams, "We have been hearing from a lot of owner operators and even fleet fuel managers who are evaluating the use of aftermarket aerodynamic trailer skirts to reduce aerodynamic drag, thereby improving fuel mileage and cutting operational costs. We just put them in contact with customers who are reporting improvements in fuel mileage of over 10%. At that rate, an owner operator who clocks 125,000 miles per year on their rig at 6.5 miles per gallon at $3.80 per gallon would save over $7,000 per year in diesel fuel. That's a pretty compelling reason for owner/operators and fleet fuel managers to invest the approximately $1,500 that it costs to install aerodynamic trailer skirts on their equipment."
With over 3 million trailers on the road and over a quarter million trailers coming online each year, the trucking industry represents a very considerable market opportunity for green technology. The state of California has already begun to mandate the use of side skirts on 53 foot vans on new dry vans and refrigerated vans, and 2010 and older model year vans driven on California highways will be required to sport retrofitted solutions by January 1, 2013.
According to Lucas Stewart, President & CEO of Harbor Enterprises, LLC, parent company of TransFoil Systems, "Now that we are into 2012, the reality is starting to hit commercial trucking companies and owner/operators who intend to operate in the state of California. They don't have much time to identify a solution. Our phones have been ringing off the hook since the beginning of the year, as word has been getting around about just how affordable the retrofit really is, how easy they are to install, and how quickly the initial investment can be recouped."
TransFoil Systems is making it easier for struggling companies and owner/operators to bite the bullet by providing guaranteed financing with flexible terms. Company controller Todd Vanderbeek remarked, "We've got customers calling us back and paying-off their installment loans before they are even due. They're saving so much money on diesel fuel that they are breaking even on their investment in as little as two or three months."
Unlike many "rigid" solutions on the market, TransFoil Systems has deployed a patent-pending three-panel solution that springs-in 60 degrees and unpins to hinge-out 90 degrees, providing easy access to the underside of the trailer for maintenance and inspections. The company has also opted to use standard hardware that can be procured at virtually any home improvement store, making the process of repairing damaged trailer skirts (sometimes called belly fairings) easy and efficient. In the unlikely event that a trailer is involved in a collision or the skirts are damaged by larger-than-normal road debris, TransFoil Systems offers a product replacement program as part of its limited lifetime guarantee.
TransFoil Systems is a subsidiary of Harbor Enterprises, LLC and is headquartered in Thomasville, Georgia. The company diversified manufacturer which has processed millions of pounds of metal through its 80,000 square foot factory in Thomasville. Harbor Enterprises holds a current, acitve $153 million contract with the U.S. Department of Homeland Security and has operated throughout the U.S., Caribbean, and Africa.
###