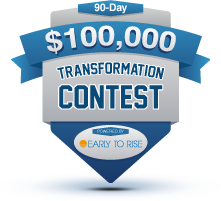 You can't change your genetics, but you can change your attitude, your persistence, your environment, the people you listen to and hang around with, and the things you do. You can change, so if you want to, just get started
Denver, Colorado (PRWEB) January 14, 2013
The World's most popular wealth and success newsletter is giving away $100,000 to people who set and accomplish their goals in 2013. As the New Year approaches, people are planning their 2013 resolutions.
As they figure out what they want to change and improve about their lives, EarlytoRise.com wants to help them accomplish their resolutions.
People will compete to make dramatic changes in the categories of health, wealth and wisdom. They'll have 90-days to do it and they don't need to buy anything. All they need is an email address and a burning desire to transform. Enrollment started Dec. 26th and ends Jan. 18th at http://www.TransformationContest.com.
In short, contestants get something good (money) for doing something great (changing their lives)
Everybody wants to change something about their life. Often, the only thing people need is motivation. The $100,000 in cash prizes will be the kick-in-the-pants motivation that will jumpstart many transformation journeys.
Contestants may want to lose 20 lbs. or escape from crushing amounts of credit card debt or they want to mend a broken relationship. That's what the contest categories of health, wealth and wisdom are for.
Along with the $100,000 in prizes – we've also partnered with a group of experts on health, wealth and wisdom to give contestants advice and motivation throughout the 90 days. Here is the platinum panel:

John Gray (Bestselling Author of Men are from Mars, Women are from Venus)
Brian Tracy (Bestselling Author of Maximum Achievement and Million Dollar Habits)
Leo Babauta (Founder of Zen Habits, zenhabits.com and author of The Power of Less)
Rich Schefren (Founder of Strategic Profits and Entrepreneur Coach)
Isabel de Los Rios (Creator of The Diet Solution)
Mark Ford (Editor of the The Palm Beach Letter and Investment & Retirement Guru)
Not only will there be cash prizes and this panel of experts – each contestant will get access to a custom-built web application designed to help them build bulletproof habits and stay on track for the 90-day contest.
There will be weekly and overall prizes in each category. 1st place wins $15,000. 2nd place wins $7,500. 3rd place wins $2,500. (For people who enter multiple categories there will be an "overall" category with the same prize structure) The contest is 90-days long and contestants will only need to take 30 seconds to update their progress each day.
Craig Ballantyne, an entrepreneur and fitness expert will host this contest. He has hosted 14 previous transformation contests and has discovered that the deadline, accountability, and prizes motivate people to make dramatic changes in their lives. So for his 15th Transformation contest he decided to make the prizes huge. That's why $100,000 is up for grabs.
Early to Rise is a daily newsletter that wakes up readers with practical and inspiration advice to help them achieve their goals. To find out more visit: http://www.earlytorise.com. Enrollment ends Jan. 18th. More info and registration is found here at http://www.TransformationContest.com.
Contact:
Nicole O'Reilly
Email: Nicole(at)godfather(dot)com