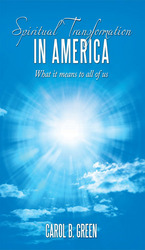 Sarasota, FL (Vocus) November 1, 2010
The United States is undergoing a transformation. As the Information Age moves on, people's ideas of religion, God and spirituality shift with increasing frequency. The question becomes; shifting towards what? In her new book Spiritual Transformation in America: What it Means to All of Us (published by AuthorHouse) author Carol B. Green examines the data regarding the spiritual trends in the U.S. in an effort to understand these trends and answer some very poignant questions.
While there have been multiple studies of religion in the U.S., until now there are some important follow-up questions that have not been asked. Just what do people believe when they say that they believe in God? What do they believe about Heaven? How does God fit into people's lives? Just as they accept that they are a nation made up of diverse peoples from different cultures, perhaps they should question if our basic religious and spiritual images are equally diverse. Spiritual Transformation in America searches for answers using reputable surveys, by reviewing books, essays, speeches, as well as interviews with appropriate parties. The goal of Spiritual Transformation in America is to better understand just what it is that Americans believe, and how these beliefs impact life in America.
Spiritual Transformation in America pays special attention to the perspective of America's young people. It is an inescapable fact that there is always some type of shift in belief structures between generations. While it cannot be denied that today's young people are bombarded with a constant stream of information about the natural world as well as endless images from both the spiritual and secular worlds, what effect does that truly have their beliefs?
With conversation rather than rhetoric, and hard data rather than posturing, Spiritual Transformation in America peels away the layers to present a rational examination of the state of spirituality in modern America as well as present possible insights on where it may be headed in the future.
About the Author
Carol B. Green has had a long and diverse career in the business world. Considered an authority on franchising, she has been quoted in the Wall Street Journal, Business Age, D&B Reports and many other publications. Ms. Green has lived in both Colorado and Florida and has been deeply involved in business in both places. In Colorado she served on the boards of multiple business organization including the Denver Chamber of Commerce. During her time in Florida, she has helped establish a bank and is heavily involved in community organizations. Ms. Green is married with three children and three grandsons. Her book, The Franchise Survival Guide, published in 1993, was a Fortune Book Club selection. To find out more about the author, visit carolbgreen.com.
AuthorHouse is a premier book publisher for emerging, self-published authors. For more information, please visit authorhouse.com.
###