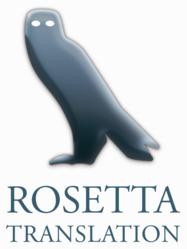 London, UK (PRWEB) October 04, 2011
Every 30 September the feast day of St Jerome, the original translator of the bible, and the patron saint for translators, is marked by translators, linguists and language service providers the world over. It is an important day, an original suggestion of the International Federation of Translators (FIT) and later inaugurated by UNESCO, which highlights the significance of translators and interpreters worldwide. Rosetta Translation Ltd, a leading, London-based, translation and interpreting service provider has been keen to publicise the event and to promote awareness amongst staff members.
The week leading up to the 30th September the FIT's theme of "Translation: Bridging Cultures" has been thoroughly explored and implemented into working life for employees of the translation company. Bérengère Gayon, a French native and Joint Head of Office in the London branch is happy to explain: "We are a multinational team, for us respecting each other's culture, roots and national heritage is of the upmost importance. As a translation company, bringing together a dedicated, hard-working team regardless of nationality is a clear example of the theme for this year's International Translation Day: bridging cultural gaps with the use of translation."
"Often translators and interpreters pass unseen, they are simply a cog in a machine of comprehension. Many people may not be aware of the importance of these linguists in facilitating communication. I would agree with the FIT when they say that professional linguists are the 'voice of politicians, religious and intellectual leaders, and all other people who influence our daily lives. They are gatekeepers of information. They are cultural ambassadors.' Working for a translation agency that has forged long-lasting relationships with its freelancers, we can definitely uphold the significance of the work they do." Miss Gayon continues.
Rosetta Translation London Ltd has held several cultural events with the aim of highlighting the importance of bridging cultural gaps at the end of this last week in September. As a fitting tribute for a saint's feast day, the translation company is marking the occasion with an International lunch. Each staff member is encouraged to bring a dish representative of their home country, or family heritage. "In bringing a national dish to the office and sharing the making of it and history behind the dish with colleagues, we can all learn something new and experience a different culture. With understanding comes more respect and a broader outlook on life, which we hope will translate into our office culture and working lives." concludes Miss Gayon.
For more information about FIT and International Translation Day visit http://fit-ift.org
About Rosetta Translation:
Rosetta Translation provides language services across most world languages. Headquartered in London, the company provides translation, interpreting and transcription services to clients worldwide. http://www.rosettatranslation.com
Media contact:
Manchandan Sumray
Rosetta Translation Limited
0044 7353 8902
msumray(at)rosettatranslation(dot)com
###