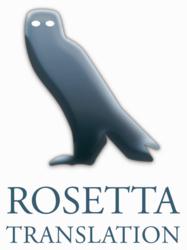 London, UK (PRWEB) November 25, 2011
Just as 2011 started with a bang for the London-based translation company with the addition of the 5000th client, the year is ending in a similar way with another milestone in client acquisition, this time the big 6000. The reputable language service provider has gone from strength to strength this year and is looking forward to ending the year on a high.
Eric Fixmer the company's Managing Director who has, over the past 18 months, been focussing on building up the company's Chinese translation business, still remains firmly involved with the running of the London team. As with the significant occasion of client 5000 Mr Fixmer, who founded the company in 2004, was once again thrilled at the attainment of such an historic occasion in the company's history. "I am very proud of the fact that Rosetta continues to expand and exceed expectations in its success and attractiveness to new and returning clients. Reaching client 6000 is an important event, and proves that our efforts in marketing, client satisfaction and quality of work have been an outstanding success. "
Despite the economic downturns and the problems facing the European markets the translation service provider has been doing very well. Mr Fixmer attributes this to the fact that Rosetta provides great value for money in a competitive market place, as well as a reliable and friendly service meaning that the company is both attractive and approachable to individuals and corporate clients alike. He continues "whilst of course we are all very pleased with reaching the figure of 6000 clients, our aim is always to provide a service so that clients will want to return to us time and again, whatever their language requirements may be."
Rosetta continues to reinforce its strengths in translation services with the recent addition of Braille translation services, as well as a comprehensive worldwide interpreting service including British Sign Language Interpreting. Mr Fixmer concludes by saying " As we reach the year end and prepare to enter 2012 we hope that with our full range of services and dedicated project management team we will continue to build on our achievements and continue to provide a high quality reliable service to all of our clients."
For more information and to receive a free quote visit the Rosetta Translation website at http://www.rosettatranslation.com or call 020 7353 8902 to talk to one of the project management team.
About Rosetta Translation:
Rosetta Translation provides a variety of language services across most world languages. Headquartered in London, the company primarily offers translation and interpreting to clients nationally and internationally.
###