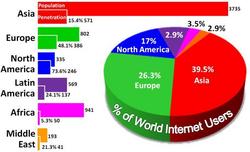 being able to go back in time to the start of the Internet, and being able to make all the right moves because you knew how the web would be monetized, the importance of search and how to leverage it, which business models would work, and which ones wouldn't.
Hong Kong / Singapore / Bangkok (PRWEB) October 21, 2008
Asia Online, a firm that is dedicated to eliminating information poverty by bringing world's knowledge to every person through its unique online Translation Technology Platform, has been shortlisted in the 2008 Red Herring Top 100 Awards, which recognizes startups that are most likely to change the business landscape in the coming years through innovative and disruptive technologies.
Established in January 2007, Asia Online had already made a big impact on the global market. In April 2008, the firm unveiled its powerful online Translation Technology Platform that uses advanced artificial intelligence to not only translate over 200 language-pairs, but also learns from humans as they proofread and edit documents. The firm now has alliances with the world's leaders in language services, such as Andovar, Braahmam, EQHO Communications and McElroy Translation.
However, Asia Online's real ambition goes far beyond offering world-leading translation technology. Its true aim is to make all of the world's knowledge available to every citizen, no matter which language they speak. It has already begun translating more than three-million pages of educational, scientific, historical and literary content into Thai as part of what it calls, "the World's largest literacy project." This content comes from highly valued open sources, such as Wikipedia (the world's seventh most popular online destination), the World Fact Book and tens-of-thousands of published books and essays, and open courseware. Asia Online is also working with publishers of popular English language magazines and publications to translate their materials into Asian languages.
This single translation project will more than double the size of the Thai Internet and make Asia Online the primary supplier of content to the populous Asian nation. The project will then be replicated in other Asian languages. Within two years, Asia Online plans to be the leading online destination for Asian consumers in 11 countries with a combined population of more than 3.5 billion
Dion Wiggins, CEO of Asia Online, says that there is huge potential for the Asian Internet market: "Currently, Asia represents 39% of all global Internet users, but the region has an Internet penetration rate of just 15% of population. By 2012, 50% of global Internet users will be in Asia, with strong continued growth expected beyond 2115. In contrast, Western markets are nearly saturated with over 75% Internet penetration rates."
"The biggest bottleneck in growing -- and making money from -- the Asian Internet is lack of compelling content," said Mr. Wiggins. "Although Asia will soon represent nearly half of the world's Internet users, less than 14% of internet web pages are in Asian languages. Worse, less than 0.03% of content is in an Asian languages other than Chinese, Japanese or Korean. This means that the bulk of the world's population have restricted access to global content... language has traditionally created a significant barrier to learning and knowledge, and this is in turn is limiting the growth of many non-English-speaking nations. This is the root cause of information poverty around the globe."
"We believe that language should never be a barrier to knowledge. By eradicating the language barrier, Asia Online will not only be helping build the nations of Asia by proving free access to knowledge and education, but we will also be positioning ourselves as the gateway to such knowledge. This gives us many opportunities to monetize our position in the market, through advertising as well as introducing a range of services that have been proven money-makers in the West."
A recent article by Gizmag likened Asia Online's strategy to "being able to go back in time to the start of the Internet, and being able to make all the right moves because you knew how the web would be monetized, the importance of search and how to leverage it, which business models would work, and which ones wouldn't." Given that Asia Online will house over 1 billion pages of Asian-language content by 2011, such statements are well-founded.
Joel Dreyfuss, Editor-in-Chief of Red Herring, says Asia Online was selected as a finalist after a lengthy and grueling process: "The finalists were selected from across 16 countries and regions are all excellent contenders. They are exceptional companies who thrive on innovation and strongly define the important role of technology in Asia's economy and throughout the world."
Technology industry executives, investors, and observers have regarded the Red Herring 100 list as an invaluable instrument to discover and advocate the promising startups that will lead the next wave of disruption and innovation.
The finalists and winning companies will be celebrated at the Red Herring 100 Asia event in Hong Kong, on December 2-3, 2008. Red Herring 100 Asia is an exclusive event honoring 100 cutting-edge private technology companies from across the Asia-Pacific region. The event brings together an elite roster of entrepreneurial and global venture investment firms to showcase excellence in innovation. It features two days of keynote discussions, roundtable panels and intimate networking events designed for participants to make connections and learn what it takes to achieve the best in business and technology in Asia.
Asia Online's unique services enable people to transcend language as a barrier to knowledge by providing unrivalled access to the limitless store of English-language content on the Internet, in their language of choice.
Asia Online's primary focus is to deliver huge amounts of content in local languages. In doing so it has created a core technological infrastructure that enables massive translation projects to be undertaken. Asia Online is working with language service providers and publishers with its unique infrastructure that facilitates the ongoing evolution of real time corrective improvements that aims to deliver machine translation quality that is second to none.
Formed in 2007, Asia Online is a privately owned company backed by a number of individual investors and institutional venture capital. Its corporate headquarters is in Singapore, and its operational headquarters is in Bangkok, Thailand, where it conducts R&D and daily business operations.
Red Herring is a global media company uniting the world's best high technology innovators, venture investors and business decision makers in a variety of forums: a leading innovation magazine; an online daily technology news service; technology research, and major events for technology leaders around the globe. Red Herring provides an insider's access to the global innovation economy, featuring unparalleled insights on the emerging technologies driving the economy. For more information, visit http://www.redherring.com.
# # #