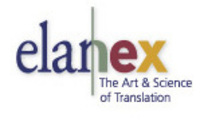 We're delighted to get Patrick on board as one of our General Managers to launch our French operations
San Francisco, CA (PRWEB) October 31, 2008
Elanex, Inc., a leader in language translation services and technology, today announces that Patrick Aubry, a veteran in the localization industry, has joined the company as General Manager of Elanex France. To this new role, he brings over 20 years of experience in translation and localization services on both the client and the service provider sides.
A French native fluent in English, Patrick has held several senior sales and operations management positions in both high-tech corporations and small to large service companies. He also worked in the automation and video games sectors. Patrick understands the challenges that companies are facing when deploying products and content worldwide, as well as the translation technologies and processes to deliver quality on time and within budget.
As Vice President for Continental Europe, Patrick managed operations, sales and strategic accounts at Lionbridge Technologies (Nasdaq: LIOX). Prior to this he was the General Manager France at Bowne Global Solutions (BGS) and the Director of Eurolang localization services, a division of Paris-based Sonovision. Earlier in his career Patrick spent ten years as manager of localization centers in France for Digital Equipment Corporation and Sequent Computer Systems.
"We're delighted to get Patrick on board as one of our General Managers to launch our French operations," says Jonathan Kirk, CEO of Elanex. "As we expand our services in Europe, Patrick gives us a strong presence in France. He has a solid experience in starting up operations and understands the real competitive differentiators that Elanex brings to the translation market."
"I've always been interested in cultural differences and the solutions to overcome the linguistic divide which in my view is as important as the digital divide," says Patrick, "and I was immediately impressed by the product offering and the technologies Elanex has developed. Their operating structure, state-of-the-art global knowledge management system, and their cutting-edge translation and automation technologies are definitely making them different and ahead of the competition. This is becoming more important as customers look to companies who can help them in their end-to-end translation and localization efforts in more efficient and cost effective ways to deliver a greater ROI. Elanex is rapidly expanding globally and I am excited to be part of the team."
Patrick has lived for the last 25 years near Sophia Antipolis, the well-known business park located in the south of France near Nice. He is an engineer in Mechanics and Aeronautics, and holds a specialized Master's in Computer Science and Automation from one of the top engineering schools in France, Sup'Aéro in Toulouse.
About Elanex. Elanex is a global language services and solutions company that combines its own industry-leading technology solutions with its network of 23,000 linguists to provide top-quality translations at highly competitive prices. The company's 11 offices around the globe include its headquarters in San Francisco along with offices in Canada, Europe, Asia, and Australia. For more information about Elanex visit us at http://www.elanex.com.
###