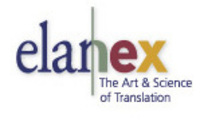 ElanexINSIDE is a breakthrough in the translation industry
San Francisco, CA (PRWEB) February 14, 2008
Elanex, Inc., a leader in language translation services, today announces the introduction of ElanexINSIDE. This exciting new managed services platform provides translation buyers with an alternative to costly software licensing or fully outsourced services.
Over the last five years, Elanex has established the leading edge for language translation services with both superior translation and project management. Elanex has developed a comprehensive translation technology platform which provides many advantages for translation buyers -- cost reduction, quality improvement, and faster project turnaround. Elanex is the only company in the translation industry to develop a platform with such comprehensive breadth and impact -- ranging from project automation and translation memory right through to web services and fully automated translation. Elanex has built a service infrastructure designed from the ground up to use this technology to its fullest, and a 22,000 person international translator corps qualified by Elanex proprietary testing and classification. As a result, Elanex delivers high quality, high value services unmatched in the industry.
Now, clients can benefit from Elanex technology and network in a new way. ElanexINSIDE offers a managed services model: instead of expensive software licensing, Elanex will train and manage your team on a pay-as-you-go basis. The ElanexINSIDE model provides all the benefits of the Elanex technology platform and Elanex outsourced services, combined with the flexibility of internal resources, with no incremental costs or switching complexity. No license or support fees, automatic upgrades, no training hassles -- just your existing translation resources, upgraded to utilize world class technology, and complemented seamlessly by the Elanex global network. ElanexINSIDE can reduce costs by 50% or more over a 5 year period, while improving the service level of your existing resources from day one.
"ElanexINSIDE is a breakthrough in the translation industry," said Jonathan Kirk, Elanex CEO. "It provides a more attractive economic model for companies with moderate to substantial translation needs, and provides an unmatched level of service." Regarding the recently announced acquisition of Idiom by SDL, he added "Our system has included advanced features such as context-based editing, CMS integration, web services and integrated machine translation in some cases for several years, and includes features such as translation extrapolation which are not yet in any other platform. Other companies promise technology integration in the future. Elanex offers the benefits today, tested by 5 years experience and over 1000 customers worldwide."
About Elanex. Elanex is a language translation services and technology company. We develop cutting-edge technology and combine it with our global network of 22,000 of the best available human translations, to provide top-quality translation at highly competitive prices. Elanex is headquartered in San Francisco and has offices in Silicon Valley, Tokyo, Fukuoka, Sydney and Melbourne. For more information about ElanexINSIDE visit us at ElanexINSIDE. For more information about Elanex, see Elanex Translation Services.
###