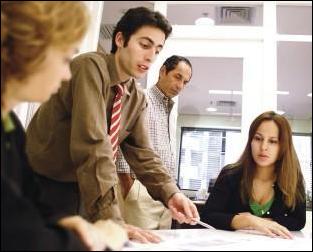 What happens is that as employees care about the company and understand that the company cares about them, this care becomes imprinted in their work.
New York, NY (PRWEB) April 24, 2007
Bureau Translations, one of the foremost translation offices in the world is embarking on a new daring global campaign based on an unprecedented business of philosophy. In search for worldwide presence and clients. Gabriel Fairman (Swarthmore College) '02 Bureau Translations CEO and leader believes that in order to achieve success one must look at more than business indicators and profit.
Bureau Translations has as its main differentials intense investment and devotion towards training and skill building. This leads to an extremely qualified team of professionals who are able to think critically about what their clients need and develop demand-based solutions for each different kind of scenario. Fairman says, "Our creativity, diligence and awareness of time allows us to satisfy every single client as we expand throughout the globe."
Fairman develops his translation company believing that capitalism can be used as an extremely powerful tool towards social transformation as he delivers translations of the utmost quality in over twenty languages. Relying on an extremely well established bedrock of values and beliefs, he uses social constructionism in conjunction with Buddhism and ancient Chinese teachings in order to develop a successful and harmonious environment that challenges the idea that people only work in exchange for money. The campaign seeks to expand Bureau Translation's client base by providing superb translations and services.
BT's CEO states, "Basically, my responsibility is to build a winning team, one that is not willing to accept anything else but victory. Once you have that, you can go into any kind of business and achieve desired results."
Bureau Translations has a full time HR consultant that evaluates the thoughts, feelings and needs of each employee at least a couple of times per week providing the management with intense ideas as to what is required in order to coordinate a harmonious environment. Gabriel Fairman says, "As we get to know each and every employee, we ensure that they are working with satisfaction. This brings us ten steps closer towards achieving the desired results."
As they move along their road towards success, Bureau Translations redefines the role and importance of HR in a company. While their HR does also have the role of monitoring and coordinating people, they are basically concerned with nutrition, health issues, moods, team spirit and satisfaction. The difference is that this is not done once or twice a year in isolated events or lectures but on a daily basis.
Gabriel Fairman stresses that this business philosophy is directly reflected in the quality of the work produced, "What happens is that as employees care about the company and understand that the company cares about them, this care becomes imprinted in their work." Ultimately Bureau Translations' clients require translations handled with extreme attention towards detail and contextual nuances. In order to perform such a delicate job their staff has an entire room devoted towards resting and relaxation. They are motivated and taught how to monitor their needs and address them before they become issues. "Fatigue is definitely one of the major causes of human error and Bureau Translations minimizes this."
In terms of their level of work, Bureau Translations has some of the best linguists in their world as part of their staff, including their CEO who speaks fluently Portuguese, mandarin (Chinese) English, Spanish, french, Italian. "It definitely helps to know exactly the operation we run. I know what the company can expect out of different kinds of situations not only through third-party advice and recommendations but through my own experience with language."
Gabriel Fairman's mother began the business 25 years ago with an unfathomable commitment towards quality in translations. Since then the company has grown to expand this incredible drive towards all areas such as time and project management, customer service and internal processes that structure an extremely powerful group.
###