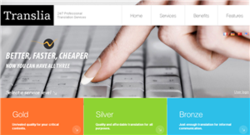 Translia expands the user base for App developers.
New York (PRWEB) May 27, 2011
Translia's Multi-file translation and 98 languages solution provides App owners with a rare opportunity to reach the billions of customers not native to their app's original language. Recently, the "app" revolution has left companies like Facebook, Apple and Google racing to take advantage of the opportunity to inexpensively market to customers. Moreover, the concept of product immersion allows marketing to take a new form that effectively garners loyalty and sales from the rapidly growing number of online and mobile application users. For instance, Apps on Facebook are persuading customers to "like" even before they buy. These and others are creating an app world that puts notifications, maps, coupons, and advertisements on the desktops, laptops, and, with the Facebook mobile app, in the hands of almost every possible demographic. This expansion of customers, however, has created a great need for companies who want to reach out to those who speak languages other than the original intended audience of the app.
Those native English app owners, e.g. Apple iPhone/iPad and Google, who want to expand their business have to consider the almost 5 billion non-English speaking people worldwide. As the app revolution slowly moves into these regions, sharp, adaptable managers are seeing the prospect of gaining loyal customers and fantastic sales. This chance will be lost, however, as local companies begin to compete by becoming as familiar with the app business model as many English companies are. Before this happens, companies can take advantage of this rare opportunity by relying on Translia online translation service.
Translia is one of the trusted providers of translation for App and various other platforms. Their 24/7 service, short turnaround time and 100% money back guarantee ensure customers get a quality experience. Translia team has worked with projects ranging from minor hundred word apps to others requiring translation word counts in the hundreds of thousands. Even more important for smaller companies, they offer inexpensive services. These give clients the chance to fill their needs, whether that entails unrivaled quality and editing, or exceptionally fast and efficient turn around. Wide coverage of languages, such as German translation services and Japanese translation services, is available at Translia.
Translia's experience covers multi-file app translation, as well as TMX export. Their multi-file support allows customers to upload an unlimited number of files to be translated, zipped, and delivered as a package sorted by the languages requested. Translia handles many major file types including XLIFF, HTML, .doc (Microsoft Word XP/2000/97), .docx (Microsoft Word 2007) as well as open source documents like .odt and .odp. With TMX export, customers are able to open and reuse the translation memory of their app project simply and effectively. These document translation services and many more are offered with the TEP methodology.
In order to produce virtually all documents error-free, Translia has long relied on their trademarked "Alternating TEP Translation". This system improves on the industry standard of translating, editing and proofreading by requiring a different translator for each task. By avoiding the common mistakes of a translator who checks their own translation, the Translia team provides the cost-effective translation service in the app industry. Every Gold level translation gets this service and many more.
Connecting 11,000+ translators worldwide, Translia offers professional translation for customers to enter a new and rapidly growing industry. Translation of Facebook, Apple and Google apps allows companies to excel in a global community. Their experience creates one clear choice for every app translation, Translia.
###