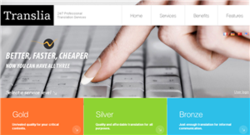 Bi-lingual IMF new leader needs Translia to better guide its 187 members.
New York, NY (PRWEB) July 21, 2011
Translia, the world's leading online translation service, issues tips that are beneficial to translate speech transcripts of leaders like the new IMF chief.
After the resignation of former IMF chief, Dominique Strauss-Kahn, a new chief has been appointed on June 28, 2011 to take over. The new IMF chief, Christine Lagarde, is entering the International Monetary Fund. She is the first woman with the position, and takes the lead while the world is in recession and struggling with high amounts of debt. During the selection process, Lagarde made important statements concerning IMF policy. With her new position, she will continue to make important speeches and statements about the global economy and IMF policy.
Translia covers 98 languages which is much more than the current seven languages used by IMF - English, Spanish, Russian, Arabic, French, Japanese and Chinese. As the IMF holds great amounts of influence in most parts of the world, one hundred eighty-seven countries in fact, more languages are naturally needed to properly convey the message. For example, the Greek people are currently in negotiations for additional aid from the IMF. While part of the Greek people understands English, it is not their native tongue. To fully convey the message of the IMF to the Greek people, along with the politicians, it is important for them to fully understand through translation into the Greek language.
Translia's multi-lingual translation services are able to turn leader's speeches and statements into target languages from French and English that Lagarde speaks. Because of her position of power in a global organization, Lagarde's speeches, along with any discussions involving her, or other key members at the IMF, are worthy of being translated into the languages of the member countries. This way even those who do not understand French, English, or any of the other official languages of the IMF, which is common with the sheer number of countries now involved, can be included in the discussion and gain an understanding on what is going on in the world economy from the IMF standpoint.
The French translators working at Translia, in particular, can help readers to understand more background about the new chief. For example, there are books, available at Amazon.com, written about the new leader, such as: Christine Lagarde - Enquête sur la femme la plus puissante de France, by Cyrille Lachèvre and Marie Visot, published by Michel LAFON in French with ISBN-10: 2749912695 in September 2010, and Christine Lagarde: Itinéraire d'une femme d'influence, by Martial You and published by Editions Alphée in French with ISBN-10: 2753806373 in October 2010. Therefore, translation companies (or agence de traduction) are highly useful to serve this purpose.
Translia service is offered online, including but not limited to professional French translation, Greek, and German translation service. Translia is easy to use as well, with a process similar to online shopping, where the client submits the document or text after uploading, pays, and after a short period of time will receive the document fully translated into the language selected. Translia supports not only MS Windows DOC, PPT, DOCX, and TXT, but also Adobe PDF and images files (e.g. GIF, JPG, BMP, and TIFF).
It is important to note, all clients who use Translia translation services must receive the copyright authorization to do so. Translia's SafeTrans technical solution will help protect the copyright during translation process and the collaborative online document translation method is now USPTO patent-pending with filing No. 12/783.568.
###