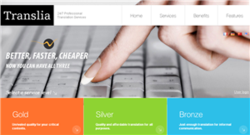 Translia links you with foreign clients through quality email translations.
New York, NY (PRWEB) June 14, 2011
Translia, the leading online translation service provider, now offers customers three different levels of service, Gold, Silver, and Bronze that address different requirements for email translation. Translia service is suitable for the mail functionality embedded in most social networking services, such as LinkedIn, FaceBook, Twitter and MySpace. Furthermore, it meets the need of users from major email systems, including Windows Live Hotmail, Google Gmail, and Yahoo! Mail.
Foreign languages are a part of everyday life, especially when it comes to the world of business. With ever growing frequency, we are living in a multilingual world. Regardless of what manner of business is being conducted, be it financial, legal, medical, or even academic in nature, it can be, and often is, in a language other that someone's native tongue. That is precisely why translation is such an important field. However, where does a business or individual go for translation needs? There are a bevy of free sites out there, e.g. Google Translate and Windows Translator, but their qualities are still in question. "Indeed, translating full sentences using Google Translate is, even now, a risky business." says Frances Sheppard, a medical researcher in France, in an article published in the journal La Presse Médicale (Volume 40, Issue 6, June 2011, Pages 565-566). The paper also "argues that no amount of technology can replace the services of a trained language professional."
Translation is, of course, by no means a new thing. However, the advent of modern telecommunications and Internet technology has made translation services a necessity for the serious businessman. Translia offers online translation services that help people when they need a quick, accurate translation of an email. Connecting 11,000+ translators worldwide, Translia offers quality service for email translation in 98 languages, including e.g. Italian translation services and German translation services.
Translia works with all major email systems, e.g. Microsoft Hotmail or Google Mail, and is also compatible with most social networking services, e.g. LinkedIn and Facebook. Users can take advantage of Translia to translate their emails and profiles to streamline communication. Email and social networking sites are critically important to today's commercial world and are dramatically changing the landscape of how it is that people conduct business. Do not sell yourself short by letting overseas opportunities slip by merely because you are not fluent in a foreign language, especially when Translia services exist and out not only convenient, but also very cost effective.
The design of Translia is easy and direct for business related linguistic needs. In fact, using it is as simple as ordering a book or DVD off of Amazon.com. Customers simply take the text that they want translated and upload or enter it into the Translia website, pay via PayPal or credit cards like VISA, and wait during the short turnaround time, at which point they will receive their high quality translations.
Choosing suitable service level will lower translation cost remarkably. Translia offers three different levels of service, Gold, Silver, and Bronze. Gold is generally reserved for the most important electronic communications, while Silver and Bronze offer customers with acceptable quality at cheaper prices. Many file types are supported for email translation, including .doc (Microsoft Word 2000/XP), .docx (Microsoft Word 2007), and .txt. Other files as email attachment are also supported, such as .ppt (Microsoft PowerPoint 2000/XP).
Translia's innovative online solution to document translation services is now USPTA patent-pending with filing No. 12/783.568. So if you are in need of high quality translations of your emails and other electronic communications make sure to use Translia. You will not be disappointed.
###