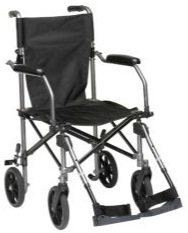 Not only do we serve them beverages and ensure their safety – now we're healing the sick
Ashton, MD (PRWEB) October 16, 2012
"Miracle flights" are the newest phenomenon in aviation. The term was coined by flight attendants working flights in which as many as a dozen passengers required wheelchairs when boarding, but were "miraculously" able to deplane without them. How can this be? It may have something to do with the fact that the free wheelchair service offered by airlines allows flyers to get through security faster and board first. But after the plane lands, wheelchair users are the last to exit. According to American Airlines attendant Kelly Skyles, "Not only do we serve them beverages and ensure their safety – now we're healing the sick."
These "miracle flyers" have grown more prevalent as airport lines and security have grown longer and more invasive. Some miracle flyers put effort into their scam, affecting limps as soon as they see someone else pushed through security quickly in a wheelchair. Others are more open about the scam, requesting a chair then, as soon as they've gotten through security, hopping back up to grab their heavy bags.
Currently, there seems to be no plan to stop the scammers. First of all, those pushing the wheelchairs are all for it. They tend to make low wages and rely on the tips they get for a large percentage of their income. Secondly, though in some cases it's obvious often it can be hard to tell who's fake and who's genuine. Elderly passengers may be able to walk short distances, but that doesn't mean they can stand for long periods while waiting in security lines. And despite the scams most people who take advantage of the wheelchair service are genuine.
"I hate long lines as much as anybody, but taking advantage of a free service meant to help the disabled doesn't sit well with me," said JustWalkers' Bryan Mercer, a licensed pharmacist for over 30 years. "Really, it's just a more complicated way of cutting in line. But what concerns me most is that if people keep doing this, eventually airlines will start requiring proof of disability which is an added burden on those who actually need the service."
About JustWalkers.com
Just Walkers provides premium walking aids throughout the United States for people of all ages looking for the best mobility products at the lowest price. They understand the importance of choosing the perfect mobility device to fit your needs. With this in mind, they offer only the best products, parts, and accessories including detailed information about each product and numerous user reviews to help you with your decision. They are proud to serve those who seek information and assistance in determining which walking aid works best for them. With a wide assortment of walking aids at affordable prices, JustWalkers.com is determined to make your shopping experience worthwhile.