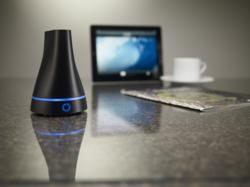 Connected Data's Transporter allows users to maintain privacy and control of their data, while enabling them to share and protect that data with other locations...
Santa Clara, CA (PRWEB) January 31, 2013
Connected Data launched from stealth today to reinvent the way consumers, professionals and small businesses securely share, access and protect their data. In addition to general availability of Transporter from a national network of online and retail partners, the company also announced it raised $6 million in funding during a recent Series A Round, led by Floodgate Fund and Northgate Capital.
Unveiled via a successful Kickstarter project in December 2012, Transporter is a private data sharing and storage solution that gives users ownership and complete control of their data and files. What sets Transporter apart from all other solutions is the ability to communicate and share files with other Transporter devices located anywhere in the world. This ability eliminates all complexity associated with syncing files and delivers fast, local copies of data without having to move it into or out of the cloud.
"Connected Data's technology is poised to disrupt the cloud storage market and evolve the way individuals and businesses share and interact with their data, both personally and professionally," said Mike Maples, Jr., Managing Partner of Floodgate Fund. "The increasing number of high-profile security issues with cloud storage have created an opportunity for off-cloud solutions like Transporter, so we're excited to join Connected Data in its mission to become the leader in private social storage solutions."
Connected Data is led by serial entrepreneur and storage industry veteran Geoff Barrall and an experienced team of professionals previously responsible for the high-performance BlueArc Silicon Server and the popular Drobo storage array.
"Connected Data allows users to maintain privacy and control of their data, while enabling them to share and protect that data with other locations," said Geoff Barrall, Founder and CEO. "We're thrilled to be leading the way in social storage with the Transporter device. The fantastic response and uptake from our customers and beta testers is allowing Connected Data to set the standard for what peer-to-peer storage can and should be."
Transporter is addressing the main concerns of shared storage, namely:
Complete Privacy. Users own and control the device. Shared files are transferred directly between authorized Transporter devices, computers, and mobile devices and are never stored in the cloud.
Unlimited Sharing and Access Anywhere. Users can securely share thousands of files of any size or type with anyone. All files stored on Transporter are available from any computer or mobile device that has access to the Internet, and files can also be synced for offline access.
Always Protected and Always in Sync. A full copy of shared files is kept on each Transporter regardless of location and changes are automatically reflected on all shared devices.
No Monthly Fees. Users own their Transporter, so the one-time cost of purchase eliminates recurring fees.
In addition to a successful Kickstarter campaign, the Transporter was recently named a 2013 Storage Visions Visionary Award Winner in the Art of Storage category that recognizes innovations in design for customer ease of use and industrial design in digital storage applications and devices.
The company has partnered with D&H Distributing to carry the company's innovative line of digital storage solutions. As one of the nation's leading technology distributors, D&H offers end-to-end solutions for today's reseller and retailer and the clients they cater to across the SMB and consumer markets.
"D&H is excited to offer Connected Data's Transporter product to its customer base," said Rob Eby, Vice President of Purchasing. "Peer-to-peer sharing is an innovative technology that we're happy to help introduce to our resellers and retailers. Both SMBs and consumers have a variety of filesharing needs, so a competitively priced product that delivers secure functionality as well as collaborative, back-up, and remote storage packs quite a value proposition for them."
Transporter is available starting at a suggested retail price of $199 (U.S.) from a national network of partners including Adorama, Amazon, B&H Photo, Datavision, J&R, Newegg, and PC Mall.
Connected Data will be an exhibitor at the 2013 MacWorld/iWorld Expo, Thursday, January 31 thru Saturday, February 2, 2013 at Booth #541.
About Connected Data
Connected Data is focused on providing elegantly designed solutions for consumers, professionals, and small businesses to privately share, access, and protect their data. The Connected Data team consists of the same professionals responsible for creating the high-performance BlueArc Silicon Server and the popular Drobo storage array. Connected Data is privately funded and based in Santa Clara, California. For more information, visit http://www.connecteddata.com.