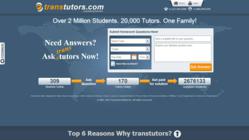 Albany, New York (PRWEB) June 27, 2013
Nearly every university in the world today is keen on enhancing its reputation by offering the best of expertise and facilities to its students. Amidst this competition, if a university is able to offer free online tutoring to its students and that too from the best of the experts across the world, it will surely thank its lucky stars. Armed with thousands of experts,Transtutors is keen on extending this facility to different universities all round the world.
Transtutors encourages every university the world over (online universities included) to apply for its program online. Those that are shortlisted will be allotted 6 hours/day of online tutoring at zero cost, which they can utilize as per their respective needs. Transtutors has successfully been offering online tutoring and homework help on different subjects like Accounting, Biology, Calculus, Chemistry, Civil Engineering, Computer Science, Economics, Electrical Engineering, Finance, Math, Matlab, Mechanical Engineering, Operation Management, Physics and Statistics.
Nishant Sinha and Aditya Singhal, the two founders of Transtutors, repose immense confidence in the power of online education. They remarked, "Online education is both a revelation and a boon. Why not use it to reach out to distant corners of the world and pay back to society? If we have benefited so much from education, we must feel incumbent upon ourselves to extend a helping hand to those who might need the same."
As different universities apply online, their registrations will be sorted out and the names that are finalized will be allowed to start participating in a one-on-one session with subject matter experts.
Any concerns about the quality and credibility of the experts on-board with Transtutors must be immediately put to rest as the company employs stringent selection criteria. Students and universities can stay rest assured that an interaction with any of these experts will surely help their cause and leave them better informed.
About Transtutors
Transtutors is now at the vanguard of online education and is playing an active role in revolutionizing it. The company comprises a team of highly qualified professionals and tutors who offer timely solutions to thousands of students all across the globe. With its headquarters in the United States, Transtutors today is transcending boundaries through its innovative approach to education.