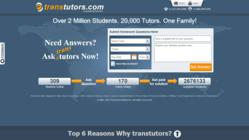 Practice, practice, practice writing. Writing is a craft that requires both talent and acquired skills. You learn by doing, by making mistakes and then seeing where you went wrong. - Jeffrey A. Carver
Albany, NY (PRWEB) April 17, 2013
Effective writing skills are often considered to be a student's ticket to a bright career. However, writing is not an easy task.To solve the writing-related dilemmas of students and job aspirants,a new online resource "Writing Help" was recently launched by Transtutors— a leading homework help and online tutoring website with over 2 million satisfied global users.
Transtutors' Writing Help provides 24X7 assistance to students and job seekers on their various kinds of writing projects and assignments such as Essay writing, CV writing, Resume Writing, Cover Letter, Thesis Writing and Dissertation Writing. Students can avail this exclusive writing service at reasonable rates for e.g., a 150 words assignment costs a mere 10-15 USD.
Globally, the online tutoring and writing assistance market is on the rise. According to a report by Global Industry Analysts Inc., the global private tutoring market is estimated to surpass $102.8 billion mark by 2018! Additionally, the sector of 'writing help' stands at $4 billion market world over. Companies offering online tutoring and writing aides are continuously required to churn out quality services. Transtutors.com, here, is a trust-able aide and name to reckon with.
Transtutors' Writing Help has exclusive hand-holding modules and is managed by 20,000+trained and qualified experts, who give personalized attention to every student's writing problems for 4-6 hrs per day. Unlike others, Transtutors' Writing Help adopts a much focused approach. It exclusively designates an expert tutor to one student at a time to ensure top-notch service. Besides, live online white-board sessions between the student and the tutor are also provided to ensure a better understanding of the student's writing projects.Transtutors' experts hold Masters or PhD degree(s) in their respective areas of expertise and are among the best in the industry. Transtutors has a very low attrition rate and these experts earn around $ 3000-$7000 per month.
Managed by the best of the industry experts,Transtutors' Writing Help employs unique methodology to assure 100% customer satisfaction.The service arranges elaborate conference calls between students and proficient tutors. Also, consistent iterations on lengthy projects like dissertations and thesis are facilitated here. Be it a simple high-school article or a highly critical scholarship essay or research paper,regular follow up for each and every piece of writing is done by Transtutors' experts.
Aditya Singhal, Director of Transtutors, says, "Transtutors focuses on creating value-based online tutoring help for its customers. Transtutors' Writing Help gives emphasis on guiding students how to learn the knack of writing rather than rote learning or just copy pasting. We completely discourage our students to turn-in the work done by the experts as it is."Transtutors' receives great reviews from satisfied students and its experts are consistently rated high by them. The system of rating and reviews helps Transtutors retain the best experts and weed out the average performers. Every day, we receive queries from about 150-200 students for Writing Help and they share their regular feedback with us that really helps us in delivering the best quality services in the market today."
Besides online Writing Help, Transtutors also provides online tutoring services to students upto 12th grade in English via their Group Company Transwebtutors. The study methodology, individualized approach and unmatchable tutoring support from highly experienced academicians, professors and college teachers give Transwebtutors a distinctive edge in delivering the best online tutoring help to school students.
About Transtutors.com:Transtutors, a unit of Transweb Global Inc., is a market leader in providing a wide spectrum of online educational services on homework, assignment and tutoring requirements.Transtutors covers 500 topics covered in an umbrella of 9major subjects including Accounting, Finance, Humanities, Management, Engineering, Science and Mathematics, Economics, Statistics. Ranging from simple algebra questions to complex financial case studies, Transtutors assists around 1000-1500 students per day for their academic needs handled by 200 in-house experts available in office 24x7 to deliver top-rated service on time.
For more information please contact:-: press(at)Transtutors (dot) com, Phone: 617-933-5480