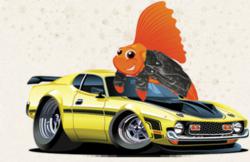 I'd like to think that we're coming out of the woods with the recession, but that's just not something I can say with 100% confidence.
Chicago, IL (PRWEB) May 17, 2012
RoadFish.com men's lifestyle and finance magazine applauded U.S. credit card holders as a collective for causing a spike in timely payments and a large dip in overdue payments within the first quarter of 2012. RoadFish.com wonders if this is perhaps a sign of the changing tides, an indication that families are slowly but surely battling the recession and coming out on top, or if borrowers are simply making it a top priority to dig out of debt this year. Either way, timely payments will boost borrowers' credit score s and indicate a turn-around in personal finances.
Alex Veiga of the Associated Press reported that despite the continuation of banks that are issuing credit cards to borrowers with not-so-good credit, cardholders have show this year that their payments are more timely than they have been in months. Veiga reports that in the fourth quarter of 2011, the rate of payments that were at least as much as 90 days late was 0.78 percent, and in the first quarter of 2011 it was 0.74 percent. In the first quarter of 2012, the rate has dipped to 0.73 percent according to TransUnion, one of the three biggest credit reporting agencies. Charlie Wise, the director of research and consulting for TransUnion, stated that the overall trend since the recession began in 2007 has been delinquency rates declining fairly steadily. Wise was quoted in the article as saying, "We are now seeing that, when given a choice, consumers are overwhelmingly paying their bankcards before they're paying their mortgages."
The article is quick to point out however that though the rate of late payments has dipped, the average cardholder has actually been adding to their debt. Veiga reports that from 2009 to 2011, the trend in cardholders to refrain from using credit in a clear effort to chip away at their debt, however credit card balances grew 6.1 percent in the first quarter of 2012 versus where they were the same time in 2011. Veiga writes that one factor in this movement of adding to already-existing debt is a consumer confidence in the U.S. economy, causing borrowers to spend more or lean on credit more frequently.
RoadFish.com's Senior staff writer is quoted saying, "I think that it's a good sign either way you spin it. Whether borrowers are making more timely payments because they're focused on keeping their credit scores solid and slashing their debt, that's great. And if folks are using credit more frequently because of a renewed sense of confidence in the economy, well, I'm not crazy about the idea of adding to debt. But the part about people seeing a come-back in our economy is great. That's what I'm seeing myself, and it's such a positive sign."
A press release from TransUnion reports that though credit card use is still high, the first quarter of 2012 saw a dip of $242 on average (down to $4,962 from $5,204 in the fourth quarter of 2011.) In the second half of 2011, both the payment delinquency rate and the average debt per credit card holder rose, and is fortunately already turned around in the first 3 months of 2012. However Ezra Becker, the vice president of research and consulting in TransUnion's financial services business department, believes that the fluctuating rates in delinquency and credit card use can be chalked up simply to seasonal influences. Becker is quoted as saying, "Trends in average debt year over year suggest that little more than the usual seasonal influence is behind these changes. Since we rarely see significant increases in either category at this time of the year, this movement isn't significant enough to suggest much more than a return to the status quo of early last year."
RoadFish.com would like to believe that credit cardholders are seeing a glimmer of hope in the economy, and feeling better about their own financial situations enough to use their plastic more often. RoadFish.com's Senior staff writer is quoted saying, "It's important for individuals and families to keep their sights set on their own financial goals, and with the current payment delinquency rates down it sounds like people are doing a good job of keeping up with their purchases. I still encourage consumers to save as much as possible, and avoid using credit when you can. I'd like to think that we're coming out of the woods with the recession, but that's just not something I can say with 100% confidence."
Still, the high use of credit cards may just be an indication that consumers are seeing a turn-around in the economy, and are more confident themselves in using credit. In the above-mentioned TransUnion press release, Becker was quoted as saying, "This year-over-year increase in average card debt-per-borrower could be anticipated based on the strong growth in new card originations over the past year. This growth is an indication that consumers are more confident in the economic outlook and are more comfortable charging purchases on their cards."
About RoadFish.com
RoadFish.com is an online men's lifestyle and finance magazine targeted toward men in their 30's and 40's that have already attained a moderate level of success in life, and are striving toward more. It goes over current events of interest to this group, such things as exciting adventures, consumer interests, and controversial television personalities as well as ways to make more and save more money. It is a publication owned by Purpose Inc.