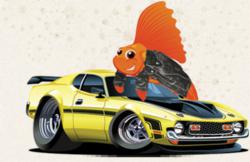 But I do want to give confidence to those consumers who may live in some of the low-score areas by encouraging them that they are the masters of their own domain...
San Jose, CA (PRWEB) February 13, 2013
RoadFish.com men's lifestyle and finance magazine today issued their statement regarding a recent ranking of the U.S. metropolitan areas with the best and worst credit scores. This data was provided by a new TransUnion study that found San Jose, CA to rank top and Memphis, TN to rank lowest. RoadFish.com responded to the new information and offered advice to consumers for holding a winning credit score regardless of where they reside.
TransUnion, one of the three major credit reporting agencies in the U.S., revealed in a press release on February 7th a listing of the top ten best and worst cities with cumulative consumer credit scores. Among the top ten were San Jose, San Francisco, Honolulu, Minneapolis, Seattle and Boston. Some of the cities with the lowest overall scores were Memphis, Jackson, MS, El Paso, TX, Las Vegas, and Baton Rouge. Heather Battison, a Senior Director at TransUnion who is responsible for consumer education, is quoted as saying, "Just as an individual's credit score is a measure of the risk that consumer presents to a lender, our study calculated the credit score that would correspond to the risk presented on average by residents of various metropolitan areas. We want to congratulate those cities that have the lowest average credit risk, or the highest credit scores -- and help educate those with high credit risk, or low credit scores."
RoadFish.com questioned why the trends are this way, but encouraged consumers that regardless of where they live, they can enjoy good credit. RoadFish.com's Senior staff writer is quoted as saying, "It's so interesting to see that there are entire regions where the average credit score is high, and other regions where the average is low. But I do want to give confidence to those consumers who may live in some of the low-score areas by encouraging them that they are the masters of their own domain, and that their score is not dependent on the scores of others around them. I do understand that some regions experience more unemployment than others, which I'm sure has something to do with this statistic. But it comes down to managing your money properly—that is, keeping a budget and tracking your spending—and not racking up too much debt. Anybody can do this, it just takes dedication, self control, and persistence. In time, credit scores will rise with timely payments and lack of debt."
Brian O'Connell of The Street, a New York publication covering business news, market data and stock analysis, wagered an educated theory as to why credit scores seemed to fluctuate with the region in TransUnion's study. O'Connell states that one possible explanation is the correlation between the amount of college graduates in top-rated cities. He points out that San Francisco and San Jose—the number one top-ranked region for high credit scores—are regions that house some of the top-rated universities in the U.S., particularly Stanford and the University of California. Likewise Boston, one of the other top ranked cities, contains Tufts, Harvard, Boston University and MIT. O'Connell states that the correlation falls in that private businesses tend to locate themselves nearby to these colleges, and are generally business that pay good wages and offer great benefits to their employees which could contribute to higher credit scores. O'Connell points out that both Apple and Google are located in Northern CA and that Reebok, Gillette, and Fidelity are housed in Boston.
RoadFish.com urged consumers to check their credit scores and then get working on strengthening the scores if they weren't up to snuff. RoadFish.com's Senior staff writer is quoted as saying, "Just because you live in a particular region does not mean you have to conform to the demographic of that area, especially when it comes to finances. I understand that the cost of living is different all over the country, but the basics to good personal finances are money monitoring, smart purchase decisions, and low debt. It does help to be actively working on your credit score as well, which is where checking it comes into play. Federal law requires that each American is entitled to three credit reports per year—one per credit bureau—and cashing in on this benefit is hugely important for working towards a better score."
In the above-mentioned The Street article, O'Connell provides a disclaimer for his theory—stating that Memphis, TN, which came in as having the lowest average credit score per region, is home to the Federal Express (FedEx) headquarters. O'Connell points out that FedEx is one of the most successful and largest companies in the world, so his theory might not be the be-all-end-all for explaining the study's results.
About RoadFish.com:
RoadFish.com is an online men's lifestyle and finance publication, mainly focusing on topics of interest such as hot chicks, dating sites, luxury items, and food reviews. RoadFish.com is catered towards male readers in their 30's and 40's who have attained moderate life success and are thirsty for more. RoadFish.com's financial articles focus on dishing out personal finance advice like how to decrease debt and how to keep a good budget. RoadFish.com is owned and operated by Purpose, Inc.