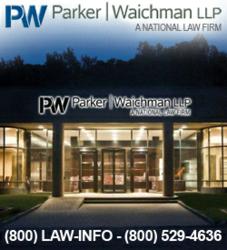 "We commend this program for shedding more light on an issue that affects thousands of women," said Gary P. Falkowitz, a Managing Attorney at Parker Waichman LLP.
New York, New York (PRWEB) April 15, 2013
Parker Waichman LLP, a national law firm dedicated to protecting the rights of victims injured by defective medical devices, commends the Public Broadcasting Service (PBS) for discussing the safety concerns surrounding transvaginal mesh and the approval of other questionable medical devices. The episode of "Need to Know," which aired on March 22, 2013, highlighted the fact that medical devices such as transvaginal mesh are approved without the need for clinical testing. The show's Medical Correspondent, Dr. Emily Senay, interviewed Linda Gross, whose Prolift transvaginal mesh lawsuit was the first of thousands to go to trial.
"We commend this program for shedding more light on an issue that affects thousands of women," said Gary P. Falkowitz, a Managing Attorney at Parker Waichman LLP. "By discussing Gross's story and the serious side effects associated with this device, consumers everywhere can be better informed of the risks."
Gross told Dr. Senay that prior to receiving her transvaginal mesh implant, she was very active and independent. Once she received the Gynecare Prolift, it was a different story, according to Gross. "I couldn't sit. It took– I believe 15 days for my bladder to restart– on its own again." Gross said the pain became so unbearable that she couldn't work or even do basic tasks such as washing the dishes; she stated that the only relief came from lying in bed with her legs propped up. Five months after receiving the implant, she decided to have it removed. However, Gross stated, the mesh had already grown in and around her tissues. "I've had 22 surgical procedures done. And I can tell you that when the mesh that has been removed is– it has to be cut out like bubble gum in your hair," she told Senay.
Before receiving the Prolift, Gross, who was a nurse, said she had inquired about what would happen if things went wrong. "I asked, 'What do you do if a person's body rejects [the device],' and I was told you go in and remove it. Nothing in the brochure indicated that it was a permanent placement, that they cannot go in and get it completely."
"Need to Know" discussed the fact that transvaginal mesh implants, as well as other "low to moderate risk" devices, are approved without any clinical testing for safety or efficacy. The process is called 510(k), and it allows manufacturers to circumvent these requirements so long as they show that the product is "substantially equivalent" to a previously approved device. Dr. Greg Curfman, who is the executive editor of the New England Journal of Medicine, says that the process "does nothing to ensure the safety or the effectiveness of the device. That's not what it does. It simply compares it to an old device… They should have undergone more testing to ensure safety and effectiveness, but slipped through the cracks." According to Dr. Emily Senay, a number of experts in the medical field believe that the 510(k) is a loophole for manufacturers to rush products onto the market without appropriate testing.
Gross's lawsuit was the first of 4,000 Prolift cases expected to go to trial (Gross v. Gynecare Inc., Atl-L-6966-10, Superior Court of Atlantic County, New Jersey). Jurors in New Jersey awarded her $11.1 million; $3.35 million in compensatory damages and $7.76 million for punitive damages.
The U.S. Food and Drug Administration (FDA) reports that the most common complications associated with transvaginal mesh may include:

Mesh erosion through the vagina (also called exposure, extrusion, or protrusion)
Pain
Infection
Bleeding
Pain during sexual intercourse (dyspareunia)
Organ perforation
Urinary problems
The agency has stated that adverse events linked to transvaginal mesh implants are "not rare" and warned that use of such devices may actually be more harmful compared to alternative methods for treating pelvic organ prolapse. The FDA has also asked 33 manufacturers, including Johnson & Johnson, to conduct post-market safety studies in order to investigate the effect of vaginal mesh on organ damage and other health concerns. (http://www.fda.gov/medicaldevices/safety/alertsandnotices/ucm262435.htm)
Parker Waichman LLP continues to offer free lawsuit consultations to victims of transvaginal mesh injuries. If you or a loved one experienced complications following POP and SUI surgery with mesh, please visit the firm's transvaginal mesh injury page at yourlawyer.com. Free case evaluations are also available by calling 1 800 LAW INFO (1-800-529-4636)
Contact: Parker Waichman LLP
Gary Falkowitz, Managing Attorney
(800) LAW-INFO
(800) 529-4636
http://www.yourlawyer.com