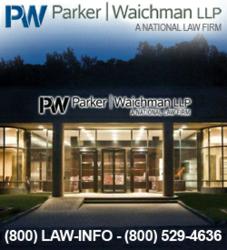 New York, New York (PRWEB) May 03, 2013
Parker Waichman LLP, a national law firm dedicated to protecting the rights of victims injured by defective medical devices, has filed a lawsuit on behalf of a Wisconsin woman who alleges that she was injured by two transvaginal mesh devices. The suit was filed on April 30, 2013 in the U.S. District Court for the Southern District of West Virginia, Charleston Division (Case No. 2:13-cv-09647) where it is one of many cases pending in the multidistrict litigation entitled In Re: Boston Scientific Corp. Pelvic Repair System Products Liability Litigation, MDL No. 2326. Boston Scientific Corporation, Johnson & Johnson, Ethicon, Inc., Mentor Worldwide LLC, Coloplast Corp. has been named as Defendants.
According to the Complaint, the Plaintiff was implanted with the Pinnacle Pelvic Floor Repair Kit and the Aris Trans-obturator Tape in April 2010. The lawsuit alleges that these devices are defective and caused a number of serious injuries. Furthermore, the suit alleges that the Defendants knew about these risks and failed to warn the Plaintiff, her doctor or other consumers. She is suing for negligence on three counts of strict liability (including design defect, manufacturing defect and failure to warn), breach of express and implied warranty, fraudulent concealment and punitive damages.
The U.S. Food and Drug Administration (FDA) reports that the most common complications associated with transvaginal mesh may include:

Mesh erosion through the vagina (also called exposure, extrusion, or protrusion)
Pain
Infection
Bleeding
Pain during sexual intercourse (dyspareunia)
Organ perforation
Urinary problems
The FDA has stated that complications linked to transvaginal mesh implants are "not rare" and warned that use of such devices may actually be more harmful compared to alternative methods for treating pelvic organ prolapse. The FDA has also asked 33 manufacturers, including Johnson & Johnson, to conduct post-market safety studies in order to investigate the effect of vaginal mesh on organ damage and other health concerns. ((http://www.fda.gov/medicaldevices/safety/alertsandnotices/ucm262435.htm)
Recently, the first transvaginal mesh lawsuit to go to trial led to an $11.1 million verdict in favor of the Plaintiff (Gross v. Gynecare Inc., Atl-L-6966-10, Superior Court of Atlantic County, New Jersey). Gross's lawsuit was the first of 4,000 Gynecare Prolift cases expected to go to trial. Johnson & Johnson was ordered to pay $3.35 million in compensatory damages and $7.76 million for punitive damages. (http://www.bloomberg.com/news/2013-02-28/j-j-owes-7-76-million-in-punitives-in-vaginal-mesh-case.html)
Parker Waichman LLP continues to offer free lawsuit consultations to victims of transvaginal mesh injuries. If you or a loved one experienced complications following POP and SUI surgery with mesh, please visit the firm's transvaginal mesh injury page at yourlawyer.com. Free case evaluations are also available by calling 1 800 LAW INFO (1-800-529-4636)
Contact: Parker Waichman LLP
Gary Falkowitz, Managing Attorney
(800) LAW-INFO
(800) 529-4636
http://www.yourlawyer.com