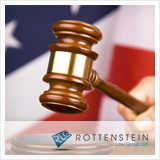 (PRWEB) May 14, 2013
The Rottenstein Law Group LLP, a New York-based law firm that represents hundreds of plaintiffs in transvaginal mesh lawsuits, acknowledges a study comparing the results of pelvic prolapse repair using vaginal mesh and native tissue.
The results of a prospective randomized trial, which were reported by Dr. Robert E. Gutman at the annual meeting of the Society of Gynecologic Surgeons, showed that cure rates and patient satisfaction following pelvic prolapse repair were similar at three-year follow-up regardless of whether vaginal mesh or native tissue was used for the repair, according to the May 9, 2013, article in Ob.Gyn.News that reported on the study.* That article further reports that, "subjects treated with mesh had more complications without experiencing benefit beyond that observed in the native tissue repair patients."
There currently are transvaginal mesh cases pending in state courts and as part of federal multidistrict litigation actions (MDLs) in the U.S. District Court for the Southern District of West Virginia (MDL No. 2187; MDL No. 2387; MDL No. 2326; MDL No. 2327).
Unlike transvaginal mesh class actions, in which similar claims against one or more common defendants are grouped together and the claimants are required to split a single award, transvaginal mesh MDLs consolidate cases for the purpose of streamlining pretrial proceedings such as discovery. That is, the vaginal mesh lawsuits that are part of the MDLs will be tried separately and the plaintiffs in those cases will not be required to share an award.
The Rottenstein Law Group LLP urges all women who believe they have been hurt by vaginal mesh to contact the firm for a free evaluation of their chances of recovering monetary compensation for their injuries via a vaginal mesh lawsuit.
*obgynnews.com/news/top-news/single-article/mesh-native-tissue-for-prolapse-repair-yield-similar-3-year-outcomes/3c04dfc41a59850a98083d8c7dac7aa3.html
About the Rottenstein Law Group
The Rottenstein Law Group LLP is a New York-based law firm that represents clients in mass tort actions. The firm was founded by Rochelle Rottenstein, a lawyer with over two decades of experience in compassionate representation of clients in consumer product injury, mass tort, and class action lawsuits. For more information, please visit the firm's web site, or call (888) 9-ROT-LAW. (Attorney advertising. Prior results do not guarantee a similar outcome.)
Contact:
The Rottenstein Law Group LLP
Rochelle Rottenstein, Esq.
321 W. 44th Street
# 804
New York NY 10036
(212) 933-9500 (office phone)
(212) 933-9980 (facsimile)
rochelle (at) rotlaw (dot) com