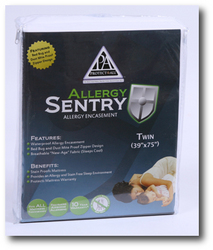 I started Trap-A-Bedbug.com to share my experiences because I read so many websites with information that was incorrect. I only wanted to pass on accurate and honest information from my 10+ years of experience in dealing with Bedbugs
Caldwell, NJ (PRWEB) November 23, 2010
Trap-A-Bedbug.com is proud to announce that in addition to news, tips and expert advice, it now offers Bedbug-proof mattress encasements (premium and economy styles available) as well as Bedbug traps and monitors. Allergy Sentry brand mattress encasements are Bedbug-proof, allergen proof, dust mite proof and waterproof on all sides. The patent-pending Bug Guard closure systems guarantees that trapped Bedbugs cannot get out and new ones cannot get in. ClimbUp Insect Interceptors and Bedbug Detection System (BDS) add another layer of Bedbug detection and prevention.
Trap-A-Bedbug.com founder Mike "The Bedbug Guy" says he started his website because he didn't like the misinformation he read across the internet. "I started Trap-A-Bedbug.com to share my experiences because I read so many websites with information that was incorrect. I only wanted to pass on accurate and honest information from my 10+ years of experience in dealing with Bedbugs." The Bedbug Guy's website, which started in August, also has a blog which is updated routinely as well as a new forum which went live recently. The Bedbug Guy has been involved in pest management since 1995. Starting as a service technician, he was quickly recognized as a highly motivated individual. Receiving several promotions within his first few years, he now runs a 2 million dollar operation. "I keep a certain level of anonymity because I didn't want this website to promote me nor my company; I have other means for that. I want only to provide information and products, not my services through this site".
As you can see when you visit the site, there is nothing flashy but the site is filled accurate and honest information. "I like to play around with the design myself and see how I progress. I hope it is the quality content and recommended products that draws visitors and not the way the site dazzles or doesn't dazzle people", the Bedbug Guy says. Trap-A-Bedbug.com contains original articles on Bedbug biology, Bedbug control and links to other sites offering valuable information. He also recently published a free Bedbug FAQ sheet for download. This sheet answers the most commonly asked questions about Bedbugs and was downloaded 100 times within the first week. "I was pleased to receive an email from an apartment superintendent telling me he posted it throughout his building. He felt the information was important enough to pass on to all of his tenants" he stated.
Since Bedbugs are a growing problem in the United States, education and prevention are paramount. Trap-A-Bedbug.com offers a means for education and tools for prevention. The Bedbug Guy said that he only offers the products he knows work by using them in the "field". He hopes to expand the product line but until then, he only offers Allergy Sentry Bedbug-proof mattress encasements, ClimbUp Insect Interceptors and the Bedbug Detection System (BDS). Be sure to visit Trap-A-Bedbug.com if you have any Bedbug concerns!