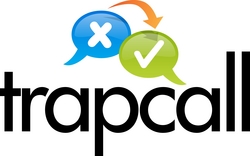 Toms River, NJ (PRWEB) January 26, 2011
TrapCall.com, the revolutionary mobile phone privacy service that unmasks blocked calls, is proudly announcing it has teamed up with Commission Junction, the largest pay-for-performance marketing network in the world, to power its new online affiliate program. Commission Junction provides TrapCall affiliates with trusted-third party tracking, real-time reporting and monthly commission checks.
TrapCall's groundbreaking privacy service for mobile phones, as well as landlines, offers its users complete peace-of-mind with their phones, by unblocking blocked and private calls and blacklisting unwanted callers. Once TrapCall is activated on a user's phone, any blocked or private calls will be unmasked to reveal the actual phone number to the caller. Additionally, users can select numbers to blacklist, which tricks callers into thinking the number has been disconnected by the phone company.
TrapCall is marketed to individual consumers, businesses and the security industry, where individuals or organizations may be experiencing issues with blocked calls, unwanted calls, harassing or threatening phone calls.
TrapCall's affiliate program gives webmasters the opportunity to share directly in TrapCall's revenues by simply linking from their site to TrapCall's site or by running TrapCall's banner ads. TrapCall's affiliate program at Commission Junction provides affiliates with a wide variety of text and banner ads and a dedicated affiliate management team ready to work 1-on-1 with its affiliates. TrapCall is hands down one of the most unique technology services available on any affiliate network. TrapCall is also the only company in the world that offers the Caller ID unmasking technology to consumers.
TrapCall's affiliate program is set apart from other affiliate programs by offering a 100% payout commission. For every sale an affiliate refers with the TrapCall affiliate program, the affiliate earns 100% of the first month's package price, netting the affiliate $4.95 to 24.95 per conversion.
For more information on TrapCall's affiliate program at Commission Junction, or to sign up to promote TrapCall on your website, blog, or newsletter, please visit: http://www.trapcall.com/affiliate/?network=cj
For more information on TrapCall, please visit: http://www.TrapCall.com/.
About TrapCall
TrapCall is a leader in the development of cutting-edge communications services. TrapCall's revolutionary service unmasks blocked and restricted calls, blacklists harassing callers and puts an end to prank calls. TrapCall is also the first and only service that enables incoming call recording on cell phones and landlines, without the need for a separate phone number. There is no software to download or install and TrapCall works with landlines and most mobile carriers.
http://www.trapcall.com
About Commission Junction
Commission Junction is one of the oldest and the largest global affiliate network, powering almost 50% of the top 500 web retailers affiliate marketing programs in North America.
http://www.cj.com
###