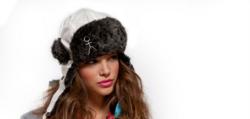 Our new line of hats is designed to keep our customers happy and comfortable all year long.
New York, NY (PRWEB) January 05, 2012
Dicks Cottons (http://www.dickscottons.com/), an accessories and clothing brand today announced a new line of Limited Edition Winter Trapper Hats and snapback hats.
The Limited Edition Trapper Hats come with a faux-fur lining to keep you warm in style. The trapper hats are available for $39 in black, white, grey, navy, orange, pink and red with the signature Dicks Cottons Stick Figure logo on the front and back.
Dicks Cottons also released a line of 16 snapback hats. These hats are available for $18 as a Snapback or Trucker Hat in black, blue, green, grey, navy, purple, red, white, yellow and Carolina blue. Each hat features a stylish version of the Dicks Cottons logo on the front.
"Our new line of hats is designed to keep our customers happy and comfortable all year long." said Rich Amundson, founder of Dicks Cottons. "Our customers can now wear their Dicks Cottons Sunglasses with equally fashionable hats!"
###