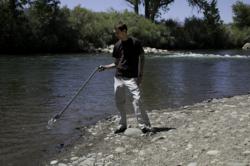 The Grappler is THE ONLY American Made Trash Pick Up Tool on the Market Today!
Sparks, NV (PRWEB) February 13, 2013
Using a Trash Pick Up Tool: Picking up trash is not usually considered something fun to do but more of a burden and an obligation. Most people want to get the project done as quickly as possible and onto something much more enjoyable. But constantly reaching down and picking up objectionable items is not only unsanitary but can become extremely unsafe.
Many people search for a trash pickup tool so that they won't have to bend over so much and not come in close contact with feces, dead animals, broken glass or other dangerous items. There are many trash pick up tools available on the market today and all of them are made in China (or other foreign countries) except one: the Grappler which is made and Sparks Nevada.
The Grappler extended reacher grabber tool is the most expensive trash pickup tool available but not for the reasons most people think. It is by far the sturdiest of all its competition, it can lift much heavier loads and it comes with a lifetime guarantee. The fact that it is American-made is only a minor contribution towards its cost but also increases the benefit.
The Grappler offer 17 pounds of squeezing pressure which is almost 10 pounds greater than the leading competitor garbage pickup tool. With its wide jaw that opens up to 5.12 inches and its sturdy construction, these three factors contribute to a long lasting and high quality, durable product that can last for years and make it possible to get the job done.
For those individuals who need a tool that can survive even the harshest of cold weather conditions, Grapplers Inc. also makes an industrial-strength pickup that has no plastic parts. This means that when used in extremely cold conditions there are no plastic parts that can break if accidentally dropped on the ground or stepped on.
Many patriotic Americans prefer to purchase products that are made in America because it supports the local economy and keeps jobs in the country. There are no other trash pickup tools available besides the Grappler that are made in America. There are also no other extended reach tools that offer a lifetime guarantee. The lifetime guarantee means that if anything goes wrong with the Grappler, you can send it back to the factory and have any part replaced or even the entire tool replaced if necessary. The customer is only responsible for shipping expenses.
Because of its sturdy construction the Grappler is sold all over the world and many companies and governments are willing to pay far more in shipping than the actual product costs because of its durability. The testimonials of people who used the Grappler on its homepage: http://www.grapplersinc.com/
About the Company:
Grapplers Inc. is an award-winning company created by Jay and Bonnie Thiessens. The company offers quality American Made Grappler tools, as well as specialty fishing and hunting accessories, utilizing state-of-the-art technology and equipment to provide the best products possible. They pride themselves on their capable, caring staff, excellent product quality, and great customer service. Grapplers Inc. makes listening to customers and satisfying their orders their highest priority. They are located at 599 East Nugget Avenue in Sparks, NV 89431 and can be reached by calling (877) 212-5803.