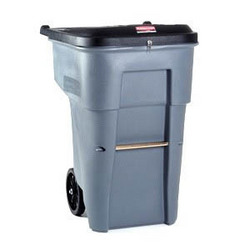 Rochester, MN (PRWEB) September 29, 2007
BuyOnlineNow.com, an international office supply and office furniture store based in Rochester, MN stocks a full selection of trash cans, wastebaskets, smoking stations and janitor carts. All orders over $99 ship for free. BuyOnlineNow carries many popular brands of trash cans such as Safco and Rubbermaid trash cans.
Waste management is an important part of any operations, whether it be a large corporation or a small home office. Being able to find the right blend of aesthetics and functionality can be a very difficult task. Many customer related business may want to use decorative trash cans, while in a warehouse atmosphere, larger trash cans with wheels would make more sense. As more places are becoming smoke free, a smoker's urn can be a convenient way to keep cigarette butts off the ground and in a proper waste receptacle.
In some places, such as hospitals and laboratories, a trash can is needed for the disposal of infectious waste. In this case, certified infectious waste containers should be used. They meet higher standards and regulations and comply with all safety and health codes. All biohazard waste receptacles that BuyOnlineNow carries meet the OSHA Bloodborne Pathogens Standard and all infectious waste containers are approved fire-safe.
BuyOnlineNow also carries trash cans that use motion sensors for opening and closing, minimizing the amount of contact a person would have with the waste inside. This can go a long way in preventing the spread of germs in the home or workplace. A less expensive alternative would be the regular step-on trash cans that open when you step on the pedal.
BuyOnlineNow carries some waste baskets that are labeled specifically for recycled materials. This can be very helpful when trying to keep recyclable material separate from the regular trash. BuyOnlineNow has shown a commitment to environmentally-friendly alternatives with their "Go Green" campaign, and strongly recommends recycling.
About BuyOnlineNow.com: Providing office supplies and office furniture to individuals and businesses for the last 7 years, BuyOnlineNow.com carries over 30,000 products in 85 distribution centers nationwide. BuyOnlineNow.com has been listed as one of the fastest growing companies in America every year since 2005 by Inc. Magazine. In 2007 BuyOnlineNow.net, their Canadian equivalent opened for business, and has been growing steadily ever since.
For more information visit our web site: http://www.buyonlinenow.com
###