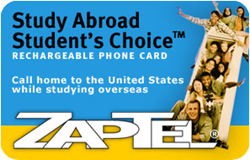 "People are often surprised when they hear how much their mobile phone provider will charge them for using their cell phones while traveling outside the United States," says Ron Reimann, ZapTel President
Chicago, IL (PRWEB) March 31, 2015
The prepaid phone card continues to be a used as a convenient way to make low cost international phone calls while traveling. ZapTel reports that for the just-ended first quarter of 2015, visits to the travel phone card section of zaptel.com are up 33% on a year over year basis.
This increase is a result of an upswing in organic search engine traffic, demonstrating an increased interest in purchasing phone cards for travel.
There are several ways to make affordable international calls days between mobile phone plans, Skype, and even FaceTime.
Still, with all these options, many international travelers seek the ease of a phone card as ZapTel's experience shows.
ZapTel Corporation, a trusted calling card source for over 15 years, continues to help navigate the ins and outs of finding the right phone card for customers traveling abroad.
"People are often surprised when they hear how much their mobile phone provider will charge them for using their cell phones while traveling outside the United States," says Ron Reimann, ZapTel President. "For many, a global phone card is a great, cost effective alternative to stay connected while traveling."
On ZapTel.com, a helpful Travel Cards Frequently Asked Questions page gives consumers answers about using phone cards outside the U.S. Topics include using calling cards from international hotels, pay phones, cruise ships and residential landlines.
ZapTel has 5 global cards to choose from with competitive rates and terms so the traveler is sure to find a card that will best meet their needs. The top performing global cards are the True North, Study Abroad Student's Choice and Absolute World phone cards.
All ZapTel phone cards are purchased online and delivered instantly by email. There is no physical phone card to be lost or stolen.
 
About ZapTel Corporation
ZapTel.com is a pioneer in the online international phone card business, with US-based live customer service for ordering, and self-provisioning services on each customer's dashboard.
In business since 1999, ZapTel is mentioned by a leading consumer magazine as a good place to buy phone cards online, and is an INC 500 company.
ZapTel is a registered trademark of ZapTel Corporation.