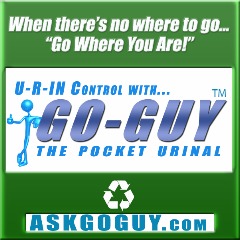 When there is no where to go, go where you are with Go Guy the pocket urinal.
Pawtucket, RI (PRWEB) November 29, 2011
Many changes are occurring around the world today and none greater than the use for U-R-IN Control's Go Guy the pee bag for the transportation industry. With the need to maximize space and reducing costs companies and states are getting rid of people's basic needs.
As reported by IBTraveler (http://www.ibtimes.com/articles/227252/20111007/dutch-trains-pee-bags-urine-plastic-bags-ns.htm), the Dutch national railway will provide pee-bags for passengers. Go Guy is the perfect product to fulfill the needs of travelers with full bladders. As stated in the article Nederlandse Spoorwegen (NS) chose not to equip 131 of its new trains with toilets, figuring the travel distances for which the particular trains are used are short enough that passengers, even if they had to go, could just hold it.
Even when traveling in a personal car Go Guy can be used because rest areas are closing down due to the states wanting to save money. Colorado, Georgia, Vermont and Virginia are among states that have closed rest stops, though Virginia's new governor, Robert F. McDonnell, has vowed to reopen 19 stops that closed last year.
This is why demand for a new product by U-R-IN Control developed Go Guy the pocket urinal. U-R-IN Control motto is "When there is nowhere to go, go where you are with Go Guy number one pocket urinal". The concept was simple. People need something small enough to keep in their pocket at all times so that in an instant they can relieve themselves. The solution was a small, compact, watertight bag that is filled with polymer crystals that will gelatinize the urine upon impact. Each U-R-IN-Control package is small enough to fit anywhere including pants pocket and comes with a wet wipe for sanitary clean up.
U-R-IN Control works on many medical devices to reduce price points and help the consumer. Go Guy which retails for $1.49 in the stores is a economical safe way to have peace of mind. The pee bag was originally developed for Paruresis, also known as shy bladder syndrome, where people are not able to urinate when in the presence of others. Many people today carry Go Guy in their pocket, wallet or glove compartment for themselves, kids or the elderly mothers and fathers. All questions about the product can be answered at their web site askgoguy.com or e-mail askgoguy(at)gmail(dot)com.
###