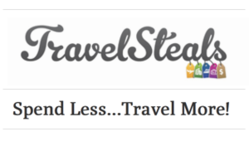 We've got a captive audience that loves to browse and can afford to wait for the perfect deal to be offered by one of these sites.
Reston, VA (PRWEB) November 25, 2012
Travel lovers are a special breed of people who love the joy and excitement that comes with traveling. These people are willing to spend money on traveling, but smart enough to know that they don't have to pay full price every time they do. Avid travelers have found that by shopping at TravelSteals.com, they can save up to 80% on their vacations. This means that these same avid travelers get to travel to three or four more destinations on the same amount of money.
Money saved in areas such as hotels and airfare can be used to enhance the trip these travelers are on or to book more and more trips each year. Top travel deals will usually give travelers the money to both travel more and have more money to spend on their travels.
TravelSteals.com is a website that aggregates all of the top feeds from the top travel deal websites. This gives them the chance to show side-by-side comparisons on all of the current deals being offered on the web. As a result, travelers can quickly and easily see which deals are the best and which ones are wastes of time.
Visitors to TravelSteals.com know that they can come to the website at any time to find neatly categorized Europe travel deals, South American travel deals, domestic travel deals, and even exotic travel deals. A simple click of a button and visitors will filter out the places they don't want to visit and be supplied with only the places they do want to visit.
Avid travelers who are always looking for great deals can come by each day and filter out all of the previous deals by simply clicking on the "daily deals" section of the website. Once they click into this area, they'll be supplied with only the new deals of the day. Recently, TravelSteals.com expanded the number of daily deals it supplies on its site so users will never have to worry about a day which doesn't bring in new deals for them to look at. People looking for anything from travel Caribbean deals to a quick trip to New Orleans will find that TravelSteals.com has the deal they are looking for.
Casual travelers will also find value in visiting TravelSteals.com. In fact, the infrequent traveler can now signup to the website and "share" the site with their Facebook friends to save a hundred dollars on their next trip. The extra hundred dollars off the vacation is worth the trip to TravelSteals.com alone.
To read more about TravelSteals.com and what they have to offer, please visit their website.