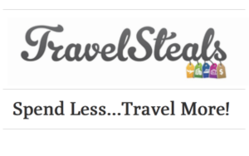 Many of our visitors never knew about Sniqueaway.com, but we're getting requests constantly to continue pulling their deals into the site.
Washington, DC (PRWEB) November 07, 2012
TravelSteals.com has been adding more and more feeds to its daily deal sites. The newest additions come from SniqueAway.com. The daily deals team at TravelSteals.com feels that the additional feeds from SniqueAway.com will provide more great deals to their section and provide TravelSteals.com's visitors with even more value than they already receive from the site.
SniqueAway.com is a website known for great deals on hotels as well as unbiased hotel recommendations. They take reviews from websites like Trip Advisor and add them to their review section. Travelers can also receive $25 credits from SniqueAway.com just for getting their friends to book through SniqueAway.com. For instance, a visitor might recommend Caribbean vacation deals and receive credits when their friend decides to go to the Caribbean.
TravelSteals.com visitors know all about getting free travel credits and can receive the credits from TravelSteals.com as well as SniqueAway.com. To receive credits from TravelSteals.com, all a visitor has to do is share some of their favorite vacation destinations with their Facebook friends. This provides tremendous value to TravelSteals.com, their visitors, and the friends of their visitors. It also makes finding a place to vacation much more social and enhances the enjoyment for everyone.
The addition of SniqueAway.com to TravelSteals.com's daily feeds will also give visitors more top travel deals to share with friends. This will make it easier for visitors to share and should drive even more traffic to TravelSteals.com. TravelSteals.com already receives more traffic from social media sites than anywhere else, so the boost should certainly have a big impact on the number of visitors visiting TravelSteals.com.
Another reason why TravelSteals.com feels SniqueAway.com is a good fit for their website is that SniqueAway.com has their own strict travel deal requirements. SniqueAway.com will not list any travel deals on hotels that do not fall into the four or five star categories. Visitors who are searching for European travel deals and end up booking a hotel stay through SniqueAway.com will never have to worry about staying in a hotel that is not up to par.
As you may have read, TravelSteals.com puts strict requirements on all of the deal sites that post in their daily deal feeds, so it's no surprise that they would choose to add a site that has strict requirements themselves. TravelSteals.com has a dedicated team that searches through all of the daily deals and the websites that offer them and checks them for quality. If a website is deemed to be unworthy of TravelSteals.com, they will quickly remove them and look to find a good replacement. This ensures that TravelSteals.com readers are never disappointed and that they always come back for more deals.
To find great bargains on Central America vacations as well as other places, please visit TravelSteals.com.
###