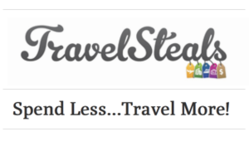 Short vacations and getaways seem to be popular amongst our subscribers, so we're dedicating part of our team to pulling the best domestic travel deals. Lower price points and much more reasonable for our audience.
Reston, VA (PRWEB) October 27, 2012
Visitors to TravelSteals.com are quickly finding out that they can save a lot of money on their domestic vacations. TravelSteals.com has worked hard to aggregate the top domestic travel flash sale websites on the Internet. They've partnered with websites that provide deals all throughout the country.
Web savvy travelers who regularly search the Internet for cheap travel deals have found TravelSteals.com to be their one stop shop. Travelers know that the feeds at TravelSteals.com are regularly updated and checked by the experts at TravelSteals.com. This means that they won't have to worry about wasting their time scanning through deals that have already expired or become invalid.
Simple categorization on TravelSteals.com offers visitors the ability to simply click on domestic travel deals. Once they've clicked this, they'll be able to see all of the best domestic travel deals the web has to offer. Also, TravelSteals.com has many exclusive domestic travel deals that you won't find on any other discount travel websites.
New and infrequent visitors can quickly search through all of the domestic deals at once. However, in order to make things quicker for frequent visitors, TravelSteals.com offers visitors the ability to search through only the deals that were placed on the website the day of the visit. This is done by clicking the "daily deals" button and then clicking on domestic travel deals.
TravelSteals.com has more than just domestic travel deals too. Visitors looking for a more unique vacation experience can click on the exotic travel deals section. This section will give them access to all kinds of unique vacation packages and hotels at great resorts. The "daily deals" button is also available for this category as well, so don't feel like you have to wade through all of the great deals each day. Simply visit each day and click on the "daily deals" button of your choice and you'll quickly and easily be able to access the best cheap travel deals.
Visitors who can't visit the site each day but don't want to miss out on all the great deals can go ahead and sign up to TravelSteals.com's daily emails. This way these travelers will get daily deals sent directly to their inbox. TravelSteals.com has found that users who use this feature can end up saving up to 80% on both their domestic and non-domestic vacations.
To get in on all of the savings, please visit TravelSteals.com and sign up for their daily emails.
###