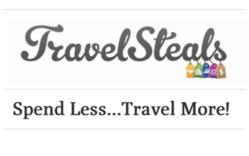 SecretEscapes.com offers lots of variety and that's what we want to share with our visitors.
Washington, DC (PRWEB) October 26, 2012
Flash sale aggregators know that they are only as good as the travel deal websites they aggregate. Because of this, TravelSteals.com is constantly looking for fantastic travel deal websites to partner with. Recently, TravelSteals.com decided that it would pull daily travel deals from SecretEscapes.com.
SecretEscapes.com negotiates exclusive rates for luxury hand-picked hotels and holidays in the UK and abroad and thus adds many European travel packages to TravelSteals.com. The great part about these deals is that they are posted on a daily basis.
TravelSteals.com prides itself on having a robust daily deals section on their website and is always encouraging its travel deal partners to offer more daily deals. If you're unfamiliar with TravelSteals.com's daily deal sections, you can find them right on the home page of TravelSteals.com. Simply scroll to the navigation bar and click on the "daily deals" button and you'll immediately be taken to all of the day's daily deals.
The daily deals section makes it easy for travelers to quickly look through all of the latest travel deals. In fact, travelers can further refine their search so that they only see the daily deals in places they would like to visit. For instance, a person looking for cheap travel deals on trips to South America can search through the South American daily deals section of TravelSteals.com.
Its not just South America either. People can search through exotic travel packages, Caribbean travel packages, and even domestic travel packages. The large number of websites that TravelSteals.com aggregates from ensures that they'll always have daily deals at all of the top travel destinations.
The addition of SecretEscapes.com also enables TravelSteals.com the ability to offer more deals in their daily emails. TravelSteals.com sends their subscribers a wonderful daily email each day. This daily email is full of great vacation packages and deals on luxury hotels. Travelers can read through the daily email and click through to read more information on travel deals that interest them.
While TravelSteals.com is very excited about pulling travel deals from SecretEscapes.com, they still aren't finished with their search for more travel deal partners. TravelSteals.com is constantly on the lookout for travel deal websites who will provide value to the readers of TravelSteals.com. The more travel deals TravelSteals.com can offer its readers, the better.
Of course TravelSteals.com isn't just going to put any site's feeds on its website. Websites who want their feeds listed on TravelSteals.com will have to meet the strict criteria TravelSteals.com sets for its partners.
To see some of the great deals TravelSteals.com has to offer, please visit their website.