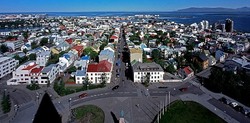 40% off selected vacation packages and 10% off all other packages being booked for Iceland
(PRWEB) May 13, 2010
It is not always easy to receive travellers when there is an active volcano in your backyard. But then there is also no changing the fact that Iceland´s nature is never at a standstill, which in turn is one of the main reasons why so many people dream of visiting the volcanic island.
Living with lava - unusual business as usual
Iceland´s tourist industry is recovering from a blow served from the gutter of... well let's just call it the volcano. The ash cloud that rose to the skies, spread over Europe and kept planes grounded has calmed down. For the locals it's back to business as usual.
The airports in Iceland are open for traffic, the flights are on time, and Highway 1, the main road that circumnavigates Iceland's coast, is open the full circle. Among the stranded travellers in Iceland during the flight ban, many were more than happy to unexpectedly have a few extra days for sightseeing, others were immediately substituted by new arrivals as the planes took off anew, the latter wishing to experience the eruption first hand. Volcanologists from all over the world are still flocking to Iceland, having a field-day, but according to Jón Sigurður Ingason, Nordic Visitor's Operations Manager in Iceland the eruption has sparked a more general interest as well. "We were quick to offer special volcano tours, and now we have added tours which put emphasis on Iceland's geology, its energy resources and the special technology used to harness it."
Like the other locals, and their ancestors before them, Ingason remains stoical about the eruption and optimistic about this new kind of tourism. "Of course, we believe any time is a good time to visit Iceland but the eruption presents a unique opportunity to see the land's defining elements at work," he says.
More flexible booking terms and red hot volcano insurance
Still, it is always better to tread lightly in the presence of nature´s forces. Therefore Nordic Visitor has adopted more flexible booking and cancellation policies in case of any swift changes due to a volcanic eruption. Furthermore, travellers booking during the month of May are offered a special Volcanic Ash Insurance Cover.
"We had to answer a lot of questions from people who had already booked a trip with us, or wanted to do so, but were worried about what might happen if the volcano interfered with their holiday plans. We wished to assure them that anything worse than a minor rescheduling of the trip is an unlikely scenario. That said, we want to play it safe and understand people´s concerns," says Mr. Ingason.
Up to 40% off trips to the land of "AY-uh-fyat-luh-YOE-kuutl-uh"
Another frequently asked question posed to Mr. Ingason and his colleagues is about how to pronounce the name of the volcano; Eyjafjallajökull. BBC´s pronunciation unit has helped English speakers by spelling it out: "AY-uh-fyat-luh-YOE-kuutl-uh", but if you want to practice with the locals and see the phenomenon behind the name, Nordic Visitor might even be of further assistance offering 40% off selected vacation packages and 10% off all other packages being booked for Iceland, with arrival dates in May.
For bookings or more information on Nordic Visitor, call (USA / Canada) 1-800-490-1019, (UK) 0-800-066-4730 or check nordicvisitor.com.
# # #