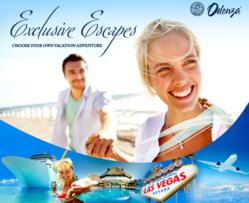 Now that consumer confidence is on the rise and customers are willing to spend money on travel, you can leverage our travel incentives to increase your sales.
San Diego, CA (PRWEB) October 11, 2012
Odenza Marketing Group will unveil their latest travel incentive product to major retailers across the United States and Canada during the month of October.
The Exclusive Escapes travel certificate allows recipients to choose from 3 exciting vacation options.
"Developing a new product that gives the customer more choice and flexibility as to when and where they can travel gives businesses an opportunity to use the excitement of leisure travel to increase their bottom line. Now that consumer confidence is on the rise and customers are willing to spend money on travel, it's important to offer customers more options. That is why the Exclusive Escapes product is going to be a perfect fit for many businesses, it offers an opportunity for customers to not only make a purchase but also be rewarded with a vacation package that allows them to choose their own adventure. The vacation options are all for 2 people, and they can choose from: roundtrip airfare plus 2 nights hotel stay in Las Vegas; a 5 day Carnival Cruise to one of 3 exotic destinations; or a 7 night resort stay at one of hundreds of worldwide locations," says Rick Peters, President with Odenza Marketing Group. Prices start at only $199 per certificate.
According to a Bloomberg survey, the Consumer Index Confidence among American consumers rose more than what was forecasted in September to a seven-month high. Odenza is confident that the Exclusive Escapes Incentive will be a popular choice by companies across North America to grab more market share. The Exclusive Escapes incentive is ideal for use in consumer promotions as a closing tool or as a lead generator designed to increase sales. For more information regarding this new Exclusive Escapes incentive please call 1-866-883-2968 or visit http://www.odenza.com.
ABOUT ODENZA:
Odenza provides quality incentive marketing solutions that give our select clients a competitive edge in their market. Odenza has been providing incentive travel certificates to companies for their promotions since 1998. Our marketing and advertising support team provides you with everything you need to make your promotion a success.
Odenza is also a three-time recipient of Carnival Cruise Lines' "Pinnacle Club" award for demonstrating exceptional creativity in sales and marketing techniques. We are members of the New Car Dealers Association, the American Resort Development Association and the International Promotional Products Association.
Our in-house travel agency is staffed by certified and experienced travel agents who work directly with your customers to book their vacations. We have direct partnerships with major airlines, cruise lines, hotels and resorts worldwide.
Contact:
Pav Sangha, VP of Marketing
Odenza Marketing Group Inc.
1-800-515-5371 ext: 234
E-mail: psangha(at)odenza(dot)com
Corporate website: http://www.odenza.com