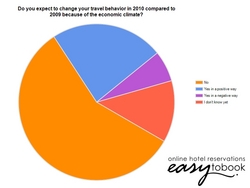 (PRWEB) December 23, 2009
2009 was a tough year for a lot of companies in the tourism industry, will this continue in 2010 or will there be a course change for the coming year?
EasyToBook.com performed a survey amongst their e-mail subscribers on their travel behavior in 2009 and their expectations for the year to come. The outcome is very hopeful for the travel industry in 2010, comparing to 2009: 23% expects to spend more on travel. 57% says there will be no budget change for their travels and only 6% will spend less in this industry next year; the rest does not know yet. When asked what the behavioral change will be, prodominately the search for special discounts stands out.
In 2009, travel behavior was negatively influenced by the economic crisis for 25% of the respondents. Two reasons stand out: personal financial situation and the exchange rate of their currency. The latter was mostly mentioned by US and UK citizens, whose currencies have seen a drop in 2009, in comparison to the Euro. The biggest changes people made in 2009 to compensate for their situation was decreasing the amount of trips and the length of their stay. Traveling more off season and staying closer to home were also very high on the list of behavioral shifts. Of the group that did not change their travel behavior over the last 2 years, 69% expect to keep on traveling as they did before. 17% expects to spend even more on travel, to 3% that expects to spend less. A staggering 46% of the people whose travels were influenced negatively by the economy last year, expect a positive change in their travel behavior in 2010. From the same group, 17% expected no change and 19% does not know what to expect yet. Only 18% of the respondents expect to have a worse year in 2010. Of the group that was not affected financially before, only 3% expects to be spending less on travel in 2010.
This survey brought up some more insights on travel behavior: people take a holiday (2 night away from home for leisure) 3 times per year on average. In order of importance; location, price and guest reviews are considered when choosing a hotel. Three-quarters of the respondents still thinks hotels are too expensive, but flights are a lot more reasonably priced. Inclusions like sauna, gym and breakfast were the least important for deciding on accommodation.
About EasyToBook.com:
EasyToBook.com is an online reservation website for all sorts of accommodations: hotels, hostels, bed&breakfasts, and apartments. In 2004 the company has started as an Amsterdam hotels specialist, and has now grown to be a worldwide player with a clear focus on larger cities like London hotels, New York hotels and Paris hotels. The company aims to serve all types of travelers, business and leisure, with the best possible prices for their accommodations, in order to find and book them with the highest form of usability. EasyToBook.com has a flexible cancellation policy and works with a 'pay when you stay' model.
# # #