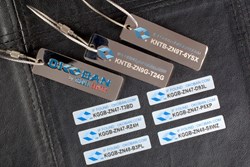 Now, with Okoban and mystufflostandfound.com any lost cell phone or other valuable can find its owner. Often, the lost valuable finds the owner before the owner realizes the item is lost.
Atlanta, Georgia (PRWEB) June 25, 2013
Technology continues to change the way people travel. To keep up with new innovations Mystufflostandfound.com has compiled a guide to 5 top new travel products.
E-BOOK READERS
E-book readers have come a long way. Awkward, clumsy text reading devices have evolved into truly mobile complete entertainment centers. Size has decreased while versatility has increased. Good new options include the Kindle Fire which will not only hold an entire library but also browse the web, send email and show movies. When space is a concern the pocket sized Amazon Kindle 3G fits the bill.
APPS
It sometimes seems that apps run the world. There are hundreds of useful apps designed for travelers and more are created on a daily basis. Among the most useful are:
-The "MYTSA " app connects to the Transportation Security Administration (TSA) to deliver current TSA information and answer common travel security questions.
-The "Google Translate" app facilitates communication no matter how fluent a traveler is in the local language. It includes more than 60 languages, 17 of which can be translated by speaking the text rather than typing it.
-The "TripItKeep" app keeps travelers organized and on time by chronologically arranging itinerary details and syncing that information to an online calendar.
CHECKPOINT FRIENDLY LAPTOP BAGS
Everyone benefits when the airport security process is as streamlined as possible. Special "checkpoint-friendly" laptop bags (no metal and x-ray friendly) now eliminate the need to remove laptops at security checkpoints. TSA has approved trifold, butterfly and sleeve style bags that allow laptops to remain in their bags for screening. Google "checkpoint-friendly laptop bags" to find one.
TRAVEL SENTRY LOCKS
All check-on luggage is screened before being placed on an airplane. Technology allows some bags to be electronically screened, however TSA will physically inspect many pieces of luggage. Locked or not, those bags will be opened and inspected. Travel Sentry has developed locks that can be opened by security officers using universal "master" keys to avoid having the locks cut. Locked luggage also eliminates the potential threat of anything illegal or dangerous being placed in the luggage by others. Visit http://www.travelsentry.org/
OKOBAN TRACKER TAGS AND GLOBAL LOST AND FOUND SERVICE
There is nothing worse after a long day of travel than finding that a piece of luggage, passport or phone has been lost. More than 12,000 laptops are left behind at airport security checkpoints every week in the US alone. Even though almost all of these "lost" items are found by someone, less than one-third get returned because finding the owner is just too difficult.
Okoban tracker tags and luggage tags from mystufflostandfound.com connect finders with owners quickly, securely and privately, anywhere in the world. For just a few dollars, Okoban's global lost and found service adds protection and security for laptops, phones, keys, cameras, passports, credit cards, luggage and other valuables.
Finders simply enter the tracker tag's Unique Identification (UID) code and the recovery location on the Okoban website. The system then immediately notifies the owner (anywhere in the world by secure email and text message) where to recover the lost item.
"Now, with Okoban and mystufflostandfound.com any lost cell phone or other valuable can find its owner." says Gordon Burns, CEO of My Stuff Lost and Found. "Often, the lost valuable finds the owner before the owner realizes the item is lost."
Okoban is the only property registration system linked to the airline industry tracing system used by over 400 airline companies in over 2,200 airports worldwide. They are directly linked to the SITA/IATA World Tracer system. WorldTracer is the world's leading automated service for tracing lost and mishandled baggage and property.
My Stuff Lost and Found, founded in 2012, provides convenient worldwide online sales and service of Okoban's sturdy tracker tags for laptops, phones, tablets, passports, luggage, cameras, pets and other valuables. Mystufflostandfound.com is the online gateway to Okoban's tracking service for valuables and free global lost and found service for life. Purchase Okoban online at http://www.mystufflostandfound.com.