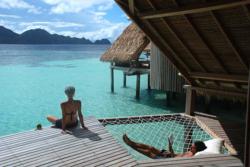 In case you can't find what you are looking for or if you'd rather have someone else do the searching for you, Welcome Beyond's travel specialists are here to help.
Berlin, Germany (PRWEB) January 16, 2013
With its new custom small hotel and villa rental search, Welcome Beyond now offers a personalized service helping discerning travelers find suitable vacation accommodation worldwide. The service goes beyond the luxury travel specialist's exclusive online collection and takes advantage of its expertise to find that special place to stay, wherever it may be.
No matter how demanding or unique the request may be: Welcome Beyond's personalized search is tailored specifically to the style and needs of each request, be it for an individual, a couple, a family or a small group.
Travelers seeking a unique wedding venue in Italy, a family destination right on the beach, a remote retreat in Brazil, or a honeymoon destination on a private island — all are equally catered for with the same attention to detail. Welcome Beyond hand-picks only truly memorable vacation destinations and places that are stylish as well as authentic, including luxury villas, castles, cabins, city apartments, small boutique hotels and other unique accommodations such as igloos, yurts or tree houses.
Suitable options are presented in a personal, illustrated document containing all the information the traveler needs. Welcome Beyond's custom search takes away the hassle of browsing through hundreds of sites and specializes in matching — or exceeding — expectations.
For fully tailor-made trip planning services travelers may also contact Welcome Beyond's partner Trufflepig. Trufflepig designs unforgettable vacation experiences, taking care of everything from the big picture (hotels, guides, transfers) to the tiny details (restaurant reservations, special activities, you-name-it).
To get in touch visit Welcome Beyond's travel services page.
About Welcome Beyond
Welcome Beyond is a carefully curated collection of the most beautiful small boutique hotels and vacation rentals in Italy, Spain, France and further afield in Europe, Asia and the Americas.
The collection focuses on quality, authenticity and character and targets style-conscious travelers who regard shelter as a meaningful part of their vacation experience. Think mirrored cubes scattered around the Norwegian wilderness, airy white villas in Santorini, old-money estates in France and Italy or a medieval watchtower turned into a contemporary retreat — all of them artfully decorated by owners who are passionate about creating a unique and restful experience for their guests.
Welcome Beyond has been recommended by The New York Times, The Guardian, Elle Magazine, Vogue and many others.