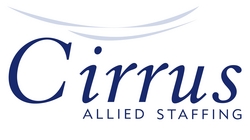 Cirrus Allied is the first rehabilitation therapy staffing firm in the country to offer a free credentialing support service for therapists with no strings attached
Dallas, TX (PRWEB) May 28, 2010
Cirrus Allied President Greg Allen announced today that the travel therapy staffing firm is rolling out a Comprehensive Licensing and Credentialing Support Program for travel therapists looking to obtain credentials in Texas.
"The state of Texas is abundant with opportunities for travel physical therapists, occupational therapists and speech language pathologists," said Allen. "Our new Comprehensive Licensing and Credentialing Support Program is designed to offer free support for individuals seeking these positions and to guide them through Texas' unique and sometimes daunting licensing and credentialing requirements."
To help PTs, OTs, and SLPs figure out what credentialing and licensing is needed for permanent and travel therapy assignments in Texas, Cirrus Allied has a team ready to help you with any of your licensing and credentialing needs. If you have a specific question or concern regarding credentialing and licensure, therapists can call Cirrus Allied's toll free credentialing hotline: 866-518-1750. The hotline is manned with a member of the Cirrus Allied team Monday through Friday from 8 a.m. – 6 p.m. EST. If a therapist leaves a message after hours, Cirrus Allied guarantees a 24 hour response from a credentialing professional.
"Cirrus Allied is the first rehabilitation therapy staffing firm in the country to offer a free credentialing support service for therapists with no strings attached," said Allen. "Of course we'd love to have these therapists join the Cirrus team, but it's not required."
Texas, known as the Lone Star State, is home to twenty-four million people and boasts rugged mountains, majestic canyons and beaches. Travel OTs, travel PTs and travel SLPs can hike through Big Bend National Park, explore the Johnson Space Center and visit The Alamo to learn about the heroic struggle that took place there in 1836. Cities such as Houston and San Antonio are home to some of the best restaurants and professional sports teams in the country as well as many great places to visit in groups or as a family.
For more information, visit our Texas Therapy Jobs page or call 866-518-1750 and ask for therapist credentialing help.
About Cirrus Allied:
Cirrus Allied is one of the nation's leading rehabilitation therapy staffing firms. With offices in Atlanta, Charlotte and Houston, our firm specializes in placing experienced rehabilitation therapists and assistants into travel, contract and permanent employment assignments that help them to further advance their careers. For our healthcare facility clients, our focus is providing a one-stop solution to their staffing and HR needs.
Cirrus Allied is a member of the Cirrus Healthcare Group, an international healthcare group specializing in providing US healthcare companies with customized domestic and international staffing and HR solutions. The Group consists of Cirrus Medical Staffing, Cirrus Allied and Cirrus Global. The companies are all A. Soriano Corporation (ANSCOR) companies.
###