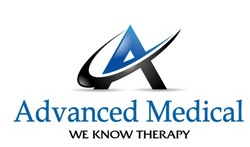 We wanted something sleek and contemporary while portraying the commitment to moving forward
Daytona Beach, FL (PRWEB) November 2, 2010
(PRWEB) November 2, 2010 -- Advanced Medical, a leading provider of travel therapy services across the country, is proud to unveil a new corporate logo. The new logo is in conjunction with several other heightened marketing initiatives which include an interactive website, expanded social networking, and additional career fair participation. "We wanted something sleek and contemporary while portraying the commitment to moving forward," stated Ryan Lantz, Director of Marketing for Advanced Medical. Advanced Medical is a "therapy only company," integrating seamless teamwork with dedicated customer service.
The past year has seen an explosion of growth with the opening of a west coast headquarters, a robust New Grad Program, and expanded access to the best clinics, hospitals and skilled nursing facilities. It is no coincidence that this growth is taking place after Advanced Medical earned the Gold Seal of Approval by the Joint Commission. This honor demonstrates compliance with a national set of consensus-based standards.
"Our goal with the new logo was to modernize our look while still conveying the commitment to old-fashioned principles that makes Advanced Medical great," says Jennifer Fuicelli, CEO of Advanced Medical. "The A not only stands for Advanced Medical but also for the aspiration to become the best we can be. The circular symbol around the A stands for all parts of the organization working as a team to achieve our goals. With working therapists in every region of the country, Advanced Medical is poised to become the National leader in travel therapy for years to come." The logo keeps the company color of blue while making it bolder and brings the tagline "we know therapy" full circle.
Please visit Advanced Medical today for any inquiries regarding physical therapy travel jobs, occupational therapy travel jobs, or travel SLP jobs.
###