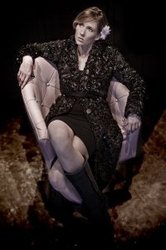 I have nothing to wear!
Malibu, CA (PRWEB) October 28, 2009
Why is it so common to stand before a full closet and say, "I have nothing to wear!" yet, when packing for a trip, the suitcase overflows with all that unwearable stuff.
With OgieKanogie.com women can now pack light and pack well with a line of stylish, affordable clothing that travels beautifully. Ogie Kanogie has full-length sweater-coats, winter coats, jackets, tops and dresses that are easy to wear and easy to pack. They resist wrinkles, are machine washable, and versatile enough to move seamlessly from day into night.
Take the OgieKanogie.com Park City full-length, medium-weight coat. A couple of folds, or a quick roll-up is all that's needed and when unpacked, the coat is ready to wear. This classic long black winter coat goes with everything. Throw it on over a pair of jeans or a casual dress, the long-sleeved hoodie dress (Riviera) add boots, a loose scarf, and the outfit is good for the day. At night, dress the coat up with heels and jewelry and its texture and grace works perfectly in the finest spots in town.
"Ogie women's clothing is all about texture and beautiful, fun fabrics, including faux furs and lightweight knits and distinctive hardware for closures and detail," says designer Massiel Bueno. "We think of our women's clothes as grab-and-go items. They're priced reasonably so you can own more than one. They're machine washable so you don't have to worry about dry cleaning bills or being too careful. And the styles are easy to dress up or down and wear just about anywhere."
OgieKanogie.com offers free domestic shipping and return shipping, and excellent personal service so customers can shop with confidence.
Ogie Kanogie owners Jamie Hormel and Massiel Bueno, friends since childhood, are proud to offer superior quality and style at reasonable prices in today's market. Their goal is to design women's clothes that appeal to a wide range of ages and tastes, that are affordable, and that are made in the USA of eco-friendly materials, including faux furs, faux suede, recycled polyesters and organic cottons.
When Massiel is not working you can usually find her surfing, and after catching early morning Malibu waves, she finds her favorite Malibu Ogie coat to be the perfect post-surf warm-up. Massiel is the mother of two and lives in Malibu, CA.
Jamie Hormel lives in the desert but freezes all summer long in super-charged air conditioning everywhere she seems to go. Her favorite traveling Ogie is the Park City full-length coat, which has kept her cozy everywhere from Africa to Costa Rica to France and beyond. Jamie is the mother of three, and has five dogs, a pot bellied pig, two miniature donkeys, and a variety of horses. She lives in Phoenix, Arizona.
Visit the Ogie Kanogie store at 22333 Pacific Coast Highway, Malibu, CA 90265 from noon to 6pm everyday. 310.456.1880.
###