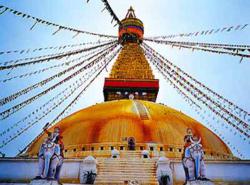 It is easy to add Nepal as the travel destination before or after Tibet with local Tibet travel agent
(PRWEB) February 11, 2013
Tibet Ctrip Travel Service, a Tibet Travel agency located in Lhasa, Tibet, is now expanding its tour service to Nepal. Whether planning an adventure that spans both Tibet and Nepal, or looking to explore Nepal specifically, travelers can take peace of mind in knowing that experienced travel professionals are helping them maximize the value of their experience. Nepal has a rich and diverse geography with the Himalayas to the north, subtropical forests at lower elevations, and savannas along the southern border with India.
For travelers looking to learn about local culture, Tibet Ctrip Travel Service's new Nepal tours include plenty of time to visit famous sites that play an important role in Nepal's history. Some of the most popular Nepal tour itineraries include:
Kathmandu: See some of Nepal's most famous sites in Kathmandu's Valley. Travelers can visit a variety of temples and shrines such and have the opportunity to learn about Nepal's history and culture.
Nagarkot: With an unforgettable sunrise in the morning and views of the Mt. Everest in the afternoon Nagarkot is a popular destination among tourists. From here it is possible to visit countryside villages and tour Bhaktapur which is home to a community of Tibetans and number of sacred temples.
Trekking: Nepal trekking is among the world's best trekking! Hike the Annapurna Circuit, trek to Mt. Everest Base Camp, or explore Chitwan National park. Tibet Ctrip Travel Service provides numerous options for trekking in Nepal.
Be sure to ask how custom Nepal tours can be planned! For those heading to Tibet, the trip from Kathmandu to Lhasa passes through some of Earth's most spectacular high altitude scenery. By organizing transportation, guides, and accommodation in addition to permits that may be necessary for travel in Tibet. Tibet Ctrip Travel Service (TCTS) makes it easy to travel through Tibet and Nepal. By arranging for a native Nepali to guide groups through Nepal then a native Tibetan guide picks up once groups cross the border, TCTS helps to provide the most authentic perspective possible. The best time to visit Nepal is March-May or September-November so start planning now!
For more information on how to set up a tour, contact a travel agency organizing Nepal tours. Devin Moore authored this article for Tibet Ctrip Travel Service; Devin is a Tibet travel enthusiast who is training to become an econometrician. Get to know Devin Moore.