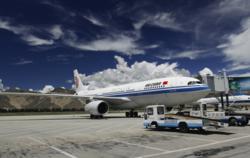 Avoid Tibet mountain sickness when traveling in Tibet.
(PRWEB) February 12, 2013
In light of the record numbers expected to travel to Tibet this year, Tibetctrip.com has recently issued some tips for avoiding altitude sickness. Tibet is the highest altitude region on earth, with the average elevation exceeding 4,500 meters and Lhasa at a little less than 3680 meters; the effects of altitude can surprise visitors. Headache, dizziness, and fatigue are common effects of the change in altitude, especially if arriving by plane. Generally, these symptoms will not prevent travelers from participating in normal activities, however, taking a few steps can really go a long way for those who want to get the most out of their time in Tibet.
Drink lots of water. This is a must; begin drinking more water than normal before arriving in Tibet. The thin mountain air is very dry compared to lower elevations and water vapor is lost when exhaling. Keeping water consumption as high as possible is the best way to reduce the altitude's effects.
Avoid tobacco and alcohol. For the first few days traveling in Tibet, it's a good idea to minimize smoking and drinking. Alcohol goes hand in hand with dehydration and slows down respiration during sleep. Smoking inhibits the body from absorbing much needed oxygen. It's best to keep these to a minimum while acclimatizing.
Avoid intense physical activity. While some Tibet tours involve trekking and biking, they will always allow at least a couple days for acclimatization. Please take advantage of this time; it will pay off once the tour gets under way.
Tibet's high altitude environment certainly is not something to be feared! Within a couple days nearly all travelers will fully acclimatize. It may be a good idea to talk to a doctor about medication for adjusting to the altitude. In any case, staying hydrated and taking it easy for the first couple days can really pay off in the long run. This is especially true for trekkers and bikers; no one wants the adventure of a lifetime to be ruined by a splitting headache and extreme fatigue. TibetCtrip wants all travelers to be altitude sickness free! Any and all questions about avoiding altitude sickness are welcome.
For more information on how to set up a tour, contact the Tibet travel agency. Devin Moore authored this for tibetctrip.com. Devin is a Tibet travel enthusiast who is training to become an econometrician. Get to know Devin Moore.