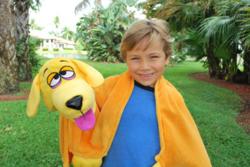 CuddleUppets are an ideal travel toy, perfect for entertaining and comforting children.
New York, New York (PRWEB) May 31, 2012
With the right preparation, parents can reduce the stress associated with traveling with small children. Jay@Play, the maker of CuddleUppets, offers tips to make summer travel with children more enjoyable.
Make Children Comfortable: CuddleUppets are an ideal travel toy -- perfect for entertaining and comforting children in unfamiliar surroundings. CuddleUppets combine a cuddly blanket and a cute puppet. The soft plush head can be used as a travel pillow, and children can keep warm on chilly planes using the fuzzy blanket. Jay@Play currently offers six CuddleUppet styles: pink poodle, blue elephant, purple monkey, yellow puppy, green crocodile, and brown bear.
Pack a Snack: With the exception of international flights or trips in first class, meals on airplanes are a thing of the past. Parents can plan ahead for the plane by packing their child's favorite treats. Beverage service is often slow, so it is a good idea to bring bottled water onto the plane. Since passengers cannot carry beverages through airport security, purchasing a water bottle with a built-in filter, such as the Bobble which retails for under $10, to fill up at an airport drinking fountain is a smart and thrifty idea.
Make a Mix: The right tunes make a road trip more enjoyable and more memorable. Most parents remember remember the fun of making mix tapes or CDs when they were teens. Tapes may be obsolete, but children can assemble a playlist of their favorite travel songs. While adults may not enjoy Justin Bieber, listening to their children's favorite songs can be a great bonding experience.
Apps are Appealing: Children can pass the time by playing an app on a smartphone or iPad. Games such as MushABellies keep children occupied during flight delays or traffic jams. Jay@Play introduced 6 new MushABellies for kids of all ages: Heckle the Hedgehog, Buzzie Bee, Mungo Monkey, Racket Raccoon, Finless Frog, and Conan Cow. Every MushABelly comes with a free 3D augmented-reality (AR) game, powered by Jay@Play's ToyTube Network™. The MushABelly 3D AR blends the game world and the real world using a smart phone device and exclusive, patented augmented reality from software developer Gravity Jack.
About Jay@Play:
MushABellies' new 3D Augmented-Reality Game, powered by Jay@Play's ToyTube Network™, blends the game world and the real world using smart phone devices and exclusive, patented AR software from developer Gravity Jack.
Jay@Play International was established in 2004 and is a Hong Kong-based company with a showroom in New York City. The company's products are distributed internationally through companies that promote all of their brands on television. Following the worldwide success of its best-selling original Plush MushABellies and Happy Nappers product lines, Jay@Play is now launching TV campaigns in the US for the New MushABellies Plush with 3D Augmented Reality Game and Cuddleuppets, Jay@Play International is a subsidiary of Jay Franco & Sons, the industry leader in the home-furnishing industry.