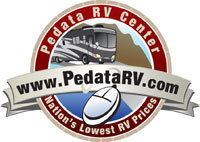 Phoenix, AZ (Vocus) April 19, 2010
Pedata RV Center cites 2009 Recreational Vehicle Industry Association total shipment statistics indicating that travel trailers experienced a drastic period of escalating sales throughout the second half of 2009. Beginning in August 2009 and continuing through the remainder of the year wholesale shipments of conventional travel trailers and fifth wheels exceeded numbers of the previous year. From August through December 2009 shipments of travel trailers exceeded those of 2008 by over 50%. Fifth wheel shipments were up over 30% during the same time period.
Gerard Pedata of Pedata RV Center responded, "According to the RVIA towables in general accounted for over 90% of all RV shipments to retailers in 2009 which is an increase of 79.7% from 2000. It's fairly obvious that the versatility of travel trailers and fifth wheels set them apart in the industry and makes them very appealing to consumers looking to make the most of their RV purchase."
The Recreational Vehicle Industry Association (RVIA) is the recognized national trade association that represents RV manufacturers and RV manufacturer suppliers. The RVIA has headquarters in Washington, D.C. and dedicates its efforts towards generating safety and professionalism within the RV industry. Members of the RVIA are responsible for building more than 98% of the nation's recreational vehicles.
Pedata RV Center offers an online directory of their full inventory with a wide selection of RVs for consumer purchase. Inventory includes a wide variety of recreational vehicles including fifth wheels, travel trailers, and more. Low overhead costs allowed the company to thrive during 2009 and the company is seeing the "recovery of 2010" firsthand as more consumers are not just looking, but looking to buy.
For more information on Pedata RV Center, or current trends in the RV industry:
Contact: Gerard Pedata
Company: Pedata RV Center
http://www.PedataRVCenter.com
Phone: 1-888-545-8314 or 520-807-0900
###