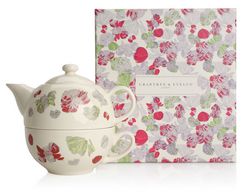 (Vocus) April 10, 2010
Crabtree & Evelyn launches a delightfully original range of new home and travel accessories that feature an abstract poppy pattern with a hand drawn quality which was created by Royal College of Art textiles graduate, Arum Han. An ideal gift for mom, the pretty and practical range includes a charming china tea set for one, travel slippers, a sleep mask, waxed canvas cosmetic bags, a luxury shower cap, moisture gloves, a lavender scented sachet and a paper notebook and notelets.
CHINA TEA SET FOR ONE ($25.00)
This exclusively designed china Tea for One set includes a teapot and cup. Ideal for enjoying a cup of your favourite afternoon tea.
LUXURY UMBRELLA ($20.00)
This classic dome shaped luxury umbrella is oversized to keep head and shoulders dry, even on the dampest of days.
TRAVEL SLIPPERS ($25.00)
EYE MASK ($10.00)
SCENTED SACHET ($10.00)
These dainty cotton and satin accessories are the perfect travel companions. Slippers are presented in a pretty carrying case and keep feet comfy and cosy even on the coldest of flights, whilst the satin backed eye mask will block out the sun, helping you to get precious sleep during your journey. Pack the heart shaped sachet in your suitcase to freshen clothes and leave them lightly fragranced with the clean scent of English lavender.
PAPER NOTEBOOK ($10.00)
PAPER NOTELETS ($12.00/Set 10 with envelopes)
These beautifully decorated pocket sized Notebook and Paper Notelets allow you to capture moments of inspiration wherever you may be.
WAXED CANVAS COSMETIC BAG (Large/$15.00, Small/$12.00)
Perfectly sized to fit all your travel essentials, these waterproof canvas bags with are ideal for lengthy getaways and weekend breaks alike.
CERAMIC SOAP DISH ($15.00)
This ceramic soap dish decorated with a delicate floral pattern will make an elegant addition to any bathroom.
SHOWER CAP ($12.00)
This lovely cotton shower cap is trimmed in satin and fully lined to protect hair in the prettiest way.
MOISTURE GLOVES ($12.00)
These charming gloves help combat dry skin while you sleep. Just before bed, apply a generous amount of shea butter rich Hand Therapy to hands and then put on these gloves to seal in moisture.
ABOUT CRABTREE & EVELYN
A pioneer in botanical formulations for over 35 years, Crabtree & Evelyn fuses the power of nature and science, luxury and comfort, and the wisdom of the past and present, to create sensorial pleasures for the body and spirit. Like the motto of our namesake, John Evelyn – a 17th century renaissance Englishman, who wrote one of the first important works on conservation – Crabtree & Evelyn "explores the world and keeps the best" to transform simple routines into luxurious fragrance experiences.
Crabtree & Evelyn's muse, India Hicks, is a designer, model, author, television personality, and goddaughter of the Prince of Wales. She has embraced the simplicity of island life in the Bahamas, which is centered on her family, and an appreciation of the nature that surrounds her. India's eclectic style and fierce individualism, along with her English heritage is a constant source of inspiration.
Crabtree & Evelyn is available online and in more than 40 countries, with over 6,000 locations and 500 concept stores worldwide. Other distribution channels include hotel amenities. For more information or to purchase products, please visit crabtree-evelyn.com or call 800-CRABTREE. To view streaming video and interactive content, please visit indiahicks-islandliving.com.
Recognised as an exceptional brand, Crabtree & Evelyn now enjoys Superbrands status in the UK, Malaysia, Singapore, Hong Kong, Australia and New Zealand.
For further information, please contact:
Marie Nicole Feanny, Public Relations Manager
Crabtree & Evelyn │ 102 Peake Brook Road │ Woodstock, CT 06281-3429
Phone: 860.928.2761 x 3375
# # #