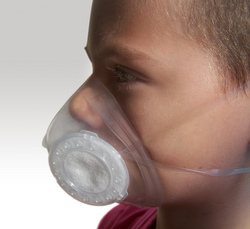 This mask is recommended by the parents of cancer patient, and cyclists in most polluted cities use it. I can count on it to protect my girl.
(PRWEB) April 26, 2010
"I'm traveling to London with my girl and I'd like to be prepared for any volcanic ash needs."
Murray Kohlhaas, a secondary school teacher from New York, is planning a week long trip to Europe and doesn't want to take any chance with her asthmatic daughter.
The volcanic dust can cause acute asthma attack if the concentration is high. In addition to the inhaler and medicine Murray purchased a transparent mask called TOTOBOBO for her daughter. She stumbled on this mask when she was reading a website call free help for cancer.
"TOTOBOBO mask is recommended by the parents of cancer patients, and cyclists in most polluted cities use it. I can count on it to protect my girl."
The World Health Organisation (WHO) has warned people suffering from asthma and other respiratory disorders to wear masks or stay indoors to avoid potential hazards caused by the recent volcanic ash from Iceland. The effects will begin to sink in when the ash descends and falls on countries across Europe. Analysis of the ash estimated that about 25% of the particles are less than 10 microns in size, which is more dangerous because they can penetrate deeper into the lungs, according to Dr Maria Neira, Director of Public Health and Environment Department at WHO.
Travelers with condition of asthma or other respiratory disorders should seek advice from doctors and observe the following precautionary measures:

Avoid unnecessary exposure to ash or pollution.
Wear a mask if need to go outside. The mask should form a good seal on your face.
Keep inhalers and medications at hand.
Wear glasses. Avoid using contact lens.
Keep a record of allergens in case of emergency.
About Totobobo mask
Totobobo is the world's first customizable respirator mask. Designed to fit both children and adults, the highly effective mask is exceptionally light weight and comfortable. At 20 grams, it is by far the lightest reusable respiratory mask on the market. Sales hits 35 countries in 2010. Totobobo is a registered trade mark of Dream Lab One Pte. Ltd.
###