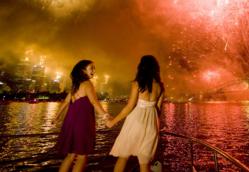 Chicago, IL (PRWEB) August 28, 2012
Down Under Endeavours' expert Australia travel agents are dedicated to planning once in a lifetime experiences for travelers of all stripes. To celebrate Sydney's 35th annual Mardi Gras, an annual LGBT pride parade and festival attended by hundreds of thousands of people, Down Under Endeavours is offering an exclusive offer for their 8 night festival package February 10 – March 3, 2013 for travelers looking to show their pride and celebrate Down Under.
Sydney Mardi Gras is one of Australia's biggest tourist attractions with the parade and dance party attracting many international and domestic tourists. It is New South Wales' second-largest annual event in terms of economic impact, generating an annual income of about $30 million Australian dollars for the state, according to research by the Destination NSW.
To commemorate this experience, Down Under Endeavours is offering a special code for a 8 night package that includes:

Private airport transfers
5 nights in Sydney
Tour to Hunter Wine Valley
Sydney Harbour BridgeClimb
3 nights in Melbourne
Private tour of Yarra Wine Valley
Hot-air balloon over Yarra Valley
Visa processing for US citizens
24-hour local assistance for all your needs while traveling
From the Great Barrier Reef to the Outback, the rainforest to the Sydney Opera House, the country offers a bit of everything and a few things found nowhere else including local and aboriginal culture, kangaroos, koalas and other unique wildlife. The travel planners at Down Under Endeavours hand pick tour guides, hotels and experiences, and go the extra mile adding extras to make a traveler's trip truly special.
Plan your 2013 Sydney Mardi Gras trip now and use offer code: DUE WINE
About Down Under Endeavours
Down Under Endeavours is a travel industry wholesaler dedicated to booking travelers once-in-a-lifetime experiences. With special contracts between luxury properties, airlines and local tour groups in Australia, New Zealand, Fiji, Tahiti and Africa, the destination specialists at Down Under Endeavours create custom vacation packages tailored to traveler's interests and imaginations. Exceeding expectations is what they specialize in and they go above and beyond adding extras to make a vacation truly special for those who wish to travel half way around the world to find the unexpected. Travelers can rest assured they know what they're getting into as every destination, airline and tour is tested personally by the employees first at Down Under Endeavours.