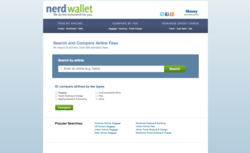 Despite attempts by the Department of Transportation to provide more transparency in advertised airfares earlier this year, travelers still cannot easily search and compare airline fees – until now!
San Francisco, Calif. (PRWEB) April 11, 2012
It's time for travelers to take control. Financial instability has plagued the U.S. airline industry, forcing airfare increases and imposition of extra fees. U.S. airlines managed to push through 9 fare increases last year and 3 additional increases this year to date. To make matters worse, U.S. airlines continue to unbundle services, charging travelers more fees for services that were once offered for free. These fees can cost more than the airfare alone.
To help financially-weary travelers navigate the turbulence, NerdWallet is launching a new tool to search for airline fees and compare specific fees across all major U.S. airlines. Travelers with airline preferences can search by airline to easily find fees without having to comb through multiple web pages or wait in a long queue to speak to a customer service representative. Travelers who want to find the cheapest fees can compare across all airlines by simply selecting personal travel preferences (i.e. 1 carry-on, 3 checked bags, priority boarding, pet in cabin, etc.). The tool is launching with more than 300 airline fees from all major U.S. airlines, initially focusing on helping travelers with domestic air travel.
Among airline fees, checking bags and changing a ticket typically have the biggest impact on travelers' wallets. However, travelers still need to watch out for many other fees that are not clearly disclosed or have complicated pricing terms:
Add-on Fees – Travelers already have to pay fees to check baggage. However, if a checked bag is overweight or oversized, airlines will charge an additional fee ranging from $25 to $200 for an overweight bag and $50 to $300 for an oversized bag. If a bag is both overweight and oversized, the airline will charge a checked bag fee, an overweight fee, and an oversized fee. This is all per bag.
Flat vs. Per Segment Fees – Read the fine print. Some airline fees are flat fees, while others are per segment. Per segment means the fee is assessed per leg of the trip. For roundtrip flights, this easily increases cost by two-fold. If there are layovers or stopovers, this increases the number of segments and significantly increases the total fee.
Online vs. Over the Phone vs. At the Airport Fees – Automation has taken over the airline industry. Labor costs are now layered into airline fees. Travelers beware of potential cost differences in booking and changing tickets online, over the phone, or at the airport. Be even more diligent as this fee structure has begun to affect other fee types. Some airlines, for example, are now charging more for carry-on and checked bags at the airport than online. Moreover, these fees are higher when purchased online at time of check-in vs. online at time of ticket purchase.
"Fees are here to stay, but standardization does not appear to be on the horizon," says Alicia Jao, VP of Travel Media at NerdWallet. "Fees vary widely across airlines. For example, one airline may have some of the most expensive fees for children flying alone, but it may also have the lowest fees for carrying on and checking in baggage. The problem is that proper disclosure remains elusive. Despite attempts by the Department of Transportation to provide more transparency in advertised airfares earlier this year, travelers still cannot easily search and compare airline fees – until now!"
NerdWallet's airline fees tool empowers travelers with an easy-to-use search by airline feature and a personalized total cost comparison feature. Fully-informed, travelers are poised to take back the skies and salvage their travels.
About NerdWallet
NerdWallet, one of the nation's premier personal finance sites, helps its users save money and time finding credit cards, credit unions, deposit rates, checking accounts online. NerdWallet was rated Money Magazine's best credit card site in 2010 and has been featured in The New York Times, Forbes and by consumer advocate Clark Howard.