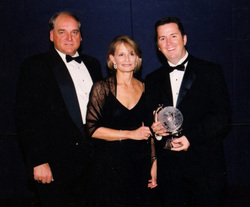 We don't consider ourselves a strictly Internet travel agency
Lexington, KY (PRWEB) January 20, 2008
More than 400 travel professionals gathered for a grand soirée in Caesar's Palace, Las Vegas this past December to be recognized for outstanding performance and record-breaking sales in 2007.
Three days of fine dining, cocktail parties and Vegas-style entertainment were among the activities provided by the host, Travel Impressions, which is one of the largest travel wholesalers in the country and a subsidiary of American Express.
For the 5th year in a row Caribbean Tours and Cruises, parent company of Allinclusiveoutlet.com, was one of the few agencies awarded with the Best of the Best Globe Award from Travel Impressions. The award is reserved for the most successful agencies that produce sales on the million-dollar level.
Allinclusiveoutlet.com is a one-stop site where travelers can research and price their all inclusive vacations or honeymoon 24-hours a day with in-depth regional information, cultural events and hundreds of Caribbean resorts.
Tom Carr, the owner of Alllinclusiveoutlet.com, credits the success of his all inclusive travel agency to its unusual position as an Internet agency that also specializes in one-to-one service and special-interest vacations, such as honeymoons.
"We don't consider ourselves a strictly Internet travel agency," Carr says, "We want to give our customers the convenience of an online booking, but the trust of a walk-in travel agency."
Allinclusiveoutlet.com provides every customer with a personal travel agent who calls to review the reservation and answer any questions before the trip. Kelly Reid, one of the travel agents on staff, considers this a great opportunity to assist her clients and create a much more personal experience.
"It's important to let our clients know that we're not off somewhere in cyberspace. We are very accessible and always happy to help them with their vacation."
The high-volume of sales generated by Allinclusiveoutlet.com also gives it a price edge over comparable major travel sites, Carr says. With instant, no-obligation quotes offered 24-hours a day, visitors can start planning their all inclusive vacation or honeymoon immediately and book whenever they're ready.
Carr also considers the user-friendliness of Allinclusiveoutlet.com to be an indispensable feature for its visitors. Easy navigation and logical headings let visitors research and book their all inclusive vacations or honeymoon with just a few clicks of their mouse. This is where the experience of satisfaction begins, Carr says.
"The usability and navigability of our website is the first experience we offer to our customers," he said, "If we can quickly give them the vacation information they need, we're off to a good start."
It is both the usability and prices at Allinclusiveoutlet.com, as well as the personal service provided, that make Carr even more confident of the year ahead.
"From the time our clients first see our website to the time they return from their vacation, our goal is their satisfaction," Carr says, "This is why Allinclusiveoutlet.com will continue to be a 'Best of the Best' agency in 2008."
###